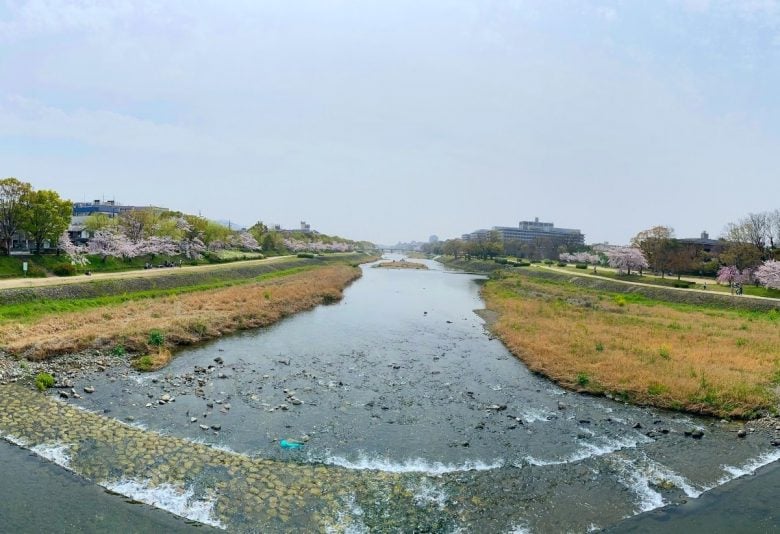 2022/02/08 (Tue)
Living in Japan
Discovering Kyoto: the Kamogawa River
Being surrounded by mountains, it is natural for the city of Kyoto to have several rivers. One of them, the most loved by locals and visited by travelers, is the Kamogawa River. On a nice sunny day, both locals and foreigners walk and sit by the river bed to relax. Students take a breather here from their hard study schedules. Workers enjoy their "bento" lunch outdoors to the sound of the river's running waters. Friends gather to play some music or chat while the sun sets. Tourists rush by with their bicycles as the whole atmosphere is as peaceful as it is energizing. There is always an excuse to head to the banks of Kamogawa River. But it hasn't always been such a lovely and relaxing place. Lets see a little bit of its history and how it became such a landmark of Kyoto.

As may happen with any river, Kamogawa has suffered some disastrous floodings. One well known took place in 1442, when the waters where so violent that two major bridges got washed away. As the city changed to be the Heian capital, several other rivers got opened to avoid another disaster. However, this wasn't enough to make front to the powerful waters that happened thereafter.
On another attempt in 1591, the Teramachi temple district got built to appease the river both spiritually and physically. Thereafter a wall also got built around the city to contain any possible floods, but the occasional tormented Kamogawa reappeared. Finally, in the year 1609, a system of canals made the river navigable from Sanjo Bridge to Osaka and the Japan Sea. This later made it popular amongst merchants and business man as a commercial route.

The popularity around the river banks also has an interesting historical background. With commerce opportunities citizens gathered and gave way to more businesses. From these, some pleasure quarters started to appear, like the well known Gion area. This later attracted more entertainment related businesses as theaters, art and literature. The later construction of Kawaramachi Street, in the 1800's, secured this as a new lively area of the city. From there, kabuki dances, puppet plays, showbooths and more continued. Some can even be seen today, like the Kyoto Shijo Minami-za theater. Another well known continuing beauty are the "kawadoko", or "kawayuka". These are the balcony areas of restaurants facing the river, offering a cool summer dining experience.

The Kamogawa River is easily reached from SAKURA HOUSE KYOTO houses in Nishijin. All it takes is a simple bus ride through Imadegawa Street. The point of access is non other than the beautiful Kamogawa Delta and its stepping stones. If in the mood for walking, a 30 minute stroll by the Kyoto Imperial Palace and Doshisha University makes it possible.
If you are getting ready to enjoy this and many other aspects of life in Kyoto, get in touch with our multilingual staff. We are happy to help you find the best option for your stay in Kyoto, or in Tokyo.
SAKURA HOUSE
Nishi-Shinjuku K-1 Bldg. 2F
7-2-6 Nishi-Shinjuku, Shinjuku-Ku Tokyo, Japan
Postal code: 160-0023
Google map
From Japan:
From outside Japan:
Mail:
Office hours:

8:50 am to 8:00 pm
We are open every day of the year.
Tokyo time:

17:35(We are open now!)