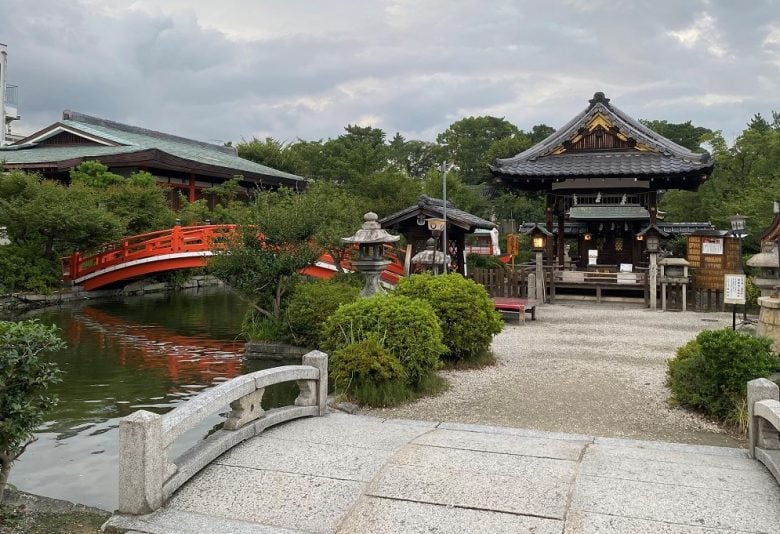 2021/08/05 (Thu)
Living in Japan
Discovering Kyoto: Shinsen-en Garden
While living in Kyoto at one of Sakura House's share house private rooms, guest house rooms or at one of the monthly semi-apartment units, there shall be plenty to discover in and around the area of Nishijin in central Kyoto City, where our foreign friendly houses options are located.
One that quickly catches the eye is the proximity and easy access to Nijo Castle, one of the great landmarks intown, but slightly south from here is a jewel representation of ancient Japan. We are talking about Shinsen-en Garden.

With a large beautiful pond filled with koi fishes, some of the most beautiful flowers and trees, and a traditional arc bridge, this garden is a sudden trip to the past into the mesmerizing gardens of the Heian period.

Originally built on year 794, this garden used to be about 100,000 square meters in size and used to serve as the emperor's private garden by being connected to the Heian Palace. Several years later, in 1603, it got considerably reduced in size when the great warlord Tokugawa Ieyasu took part of the land to build his own residence, the Nijo Castle. It continue to be known as the oldest existing garden in Kyoto.

Shinsen-en means "sacred spring garden" in Japanese, and houses 3 shrines and a sub-temple of the famous Toji Temple, near Kyoto Station. Its most outstanding feature is the a shrine dedicated to the Dragon Queen, Zennyo Ryūō Shrine. This shrine is related to a a rain-god dragon in Japanese mythology that usually gets depicted as a small dragon, or a man or woman with a dragon's tail. In relation to this, it is said that there was a Buddhist rainmaking competition here in year 824, which remains as the best recorded apparition of such mythological being. Another story mentions that there was a prolonged drought in year 824 all around the country, so the emperor ordered the high priest Kuukai to pray for rain. Kuukai used Buddhist powers to called a rain goddess from India, Zennyo Ryūō, and rain fell for 3 consecutive days. It is said that Zennyo Ryūō continuess to live in this lake today and therefore the lake remains always full, even in times of drought.

Another eye catching feature of this garden is the orange Hojo-bashi arched bridge. Just by seeing it one can tell that it offers the best scenery to take some of the most unique Kyoto-like pictures with family members, friends or housemates. It is believed that if a person crosses the bridge wishing only one thing, reaches Zennyo-Ryuo Shrine and prays for their wish there, it will come true.

All in all this continues to be a small but beautiful spot within Kyoto to visit anytime throughout the year. Although a special mention must be made during spring, when all the cherry blossom trees are in full bloom and offer a completely different ambiance.
How to get to Shinsen-en Garden from Sakura House Kyoto:
SAKURA HOUSE
Nishi-Shinjuku K-1 Bldg. 2F
7-2-6 Nishi-Shinjuku, Shinjuku-Ku Tokyo, Japan
Postal code: 160-0023
Google map
From Japan:
From outside Japan:
Mail:
Office hours:

8:50 am to 8:00 pm
We are open every day of the year.
Tokyo time:

13:41(We are open now!)