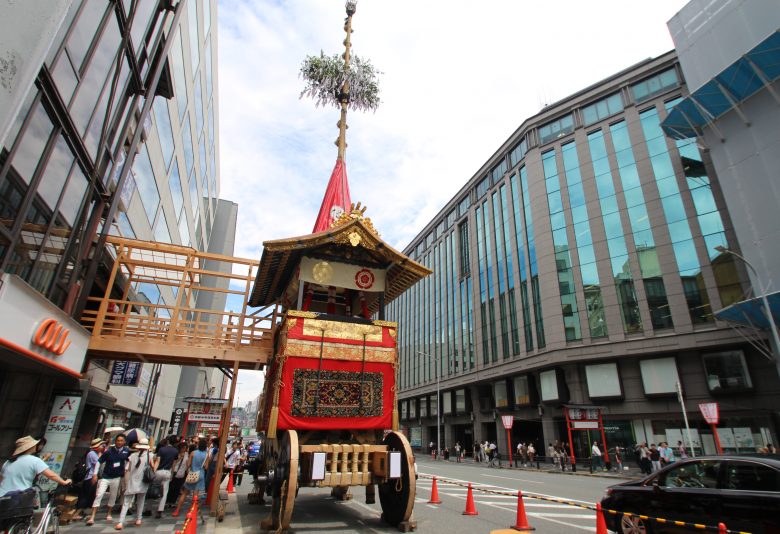 2021/07/07 (Wed)
Living in Japan
2021 Gion Matsuri in Kyoto
Good news regarding this year's Gion Matsuri, one of Japan's most awaited events.
Although the festival itself shall not be taking place this year again, the "Yamaboko tate" (山鉾建て), or construction and show of the festival's large floats, are being prepared in a reduced manner after 2 years of suspension.
*Picture taken on 2018 of one of the floats being constructed.

Not all of the floats shall be constructed, but it is nice to have such a representative part of this festival on display this year.

The lively food stalls and night events prior to the parade, and the parade itself, are suspended for this year as a counter action to the spread of the continuing pandemic situation worldwide.
If planning to enjoy some of the summer festivals in Kyoto, our Kyoto Machiya House, share house and guest house rooms are available as an accommodation option for your trip to Kyoto.
KYOTO ANNEX (Share House / Guest House)
–
KYOTO L (Share House / Private House)
–
KYOTO R (Luxury Share House / Private House)
SAKURA HOUSE
Nishi-Shinjuku K-1 Bldg. 2F
7-2-6 Nishi-Shinjuku, Shinjuku-Ku Tokyo, Japan
Postal code: 160-0023
Google map
From Japan:
From outside Japan:
Mail:
Office hours:

8:50 am to 8:00 pm
We are open every day of the year.
Tokyo time:

00:53