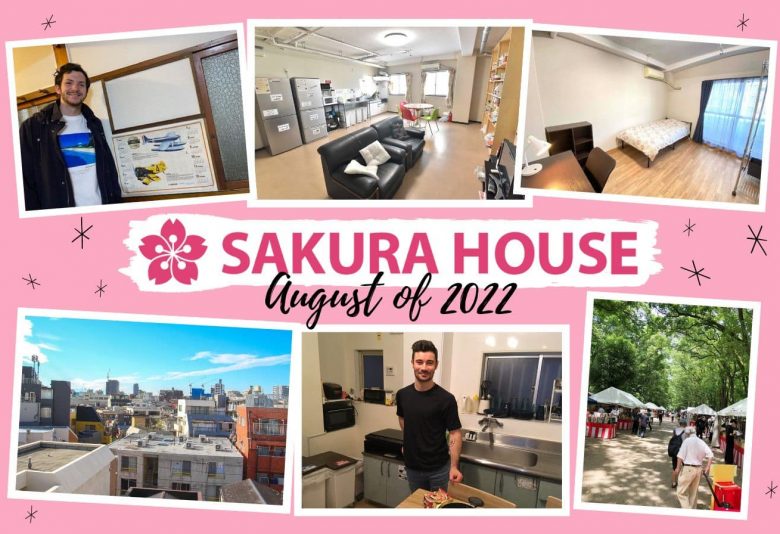 2022/09/02 (Fri)
Living in Japan
SAKURA HOUSE during August of 2022
After a long wait, many foreign students of Japanese language schools and universities, as well as working professionals and foreign interns in Japan, could finalize their arrangements for their stay in Tokyo or Kyoto.
Among all the rush and sudden changes of many travelers schedules, our multicultural staff continued to be available everyday of August to answer all inquiries. And while doing so, we kept showing you a little bit of what was going on in and around our Share House, Guest House and Apartment accommodation units.
For those who where too focused on their travel plans for September, October, November and the rest of the year, we bring here a quick review of what has happened at SAKURA HOUSE during August of 2022.

Your home awaits in Japan

With the rush that many have faced while preparing their study trip or work stay in Japan, we continued to show everyone overseas a little bit of our latest available options in both cities of Tokyo and Kyoto, just to be sure no one oversees our special deals and latest housing options for foreigners in Japan.
This month the highlight were:
OTA-KU OMORI – private bedrooms from 74,000 JPY/month & shared dormitories from 49,000 JPY/month
MUSASHINO MUSASHI-SEKI – private bedrooms from 73,000 JPY/month.
HIGASHI NAGASAKI TERRACE – private bedrooms from 77,000 JPY/month
SUGINAMI OGIKUBO – private bedrooms from 77,000 JPY/month, shared dormitories from 45,000 JPY/month & apartment unit of 110,000 JPY/month

There's always time for a smile

This month also we could feel the special energy that drives the power of our monthly accommodation service, the lovely comments and smiles of our residents.
This month we had to say goodbye to many of our resident, but many other travelers, students, interns and working related professionals have stopped by our Shinjuku Lounge Office to commence their new life adventure after a long wait.
Many others have looked beyond this month and made their Online Room Viewing request, to check their preferred room/apartment from overseas prior to making their final reservation. For those already in Tokyo or Kyoto and its surroundings, a personal room viewing is also possible.

Life in Japan and its events

August has continued to bring some of the much awaited summer events. On this occasion we shared a little bit of one of the special markets loved by locals of Kyoto and the Kansai area, the old books fare at Shimogamo Shrine, located about a 30 minute walk from our Kyoto Machiya Houses & Share Houses.
The entrance of the shrine with its tall trees and large entrance road make it a perfect location to fight the summer heat, meet with friends or work colleagues and search for all types of books of a great variety of genres at a surprisingly cheap price.
Make sure to follow our social media accounts for this and more regular details of life in Tokyo and Kyoto.
Facebook  |  Instagram (Tokyo)  |  Instagram (Kyoto)  |  Twitter

Discoveries on the go

Every time we go to our shared accommodations for cleaning, room viewing for a check-out or maintenance related, we keep our eyes open to what has changed around the area. This allows us to not only know more about the characteristics of each neighborhood, but also have something to share with our residents and everyone overseas as well.
If you have doubts on were to stay, what type of accommodation would be best or are interested in our recommendations, don't hesitate to contact our staff anytime. We continue to attend all inquiries in English, Chinese, Japanese, French, Spanish, German and Portuguese.
SAKURA HOUSE
Nishi-Shinjuku K-1 Bldg. 2F
7-2-6 Nishi-Shinjuku, Shinjuku-Ku Tokyo, Japan
Postal code: 160-0023
Google map
From Japan:
From outside Japan:
Mail:
Office hours:

8:50 am to 8:00 pm
We are open every day of the year.
Tokyo time:

01:11