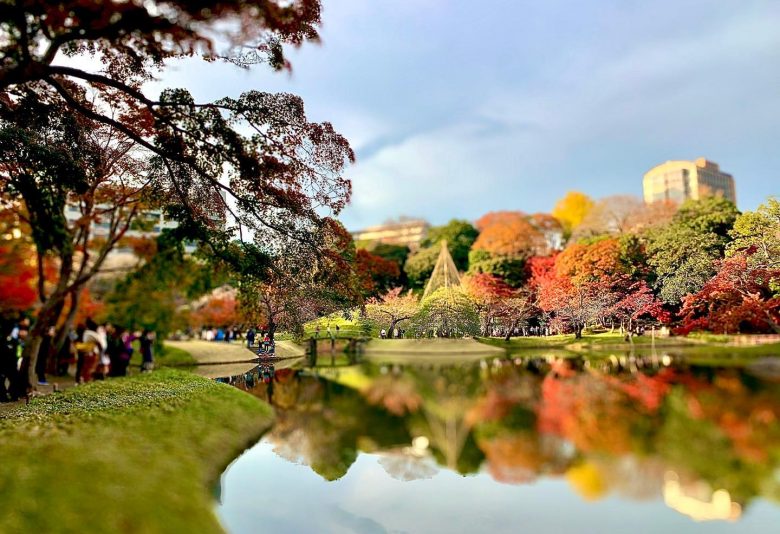 2021/09/01 (Wed)
Living in Japan
5 of the best photo spots in Tokyo
A stay in Tokyo is a journey of discovery and surprise. Whichever the reason for your travel may be (study, work overseas, travel, intern, etc.), the city has a lot to see, maybe even too much, which makes of it a most photogenic destination in Japan.
If you are coming for a long tern stay, it may be possible to find the time to slowly walk around and explore; but if you are traveling on a short term stay, having some basic guidance can be very helpful. So here we present some basic 5 spots to get yourself unique pictures of Tokyo, Japan.
Shibuya Scramble Crossroad
We start with the obvious, but also the most embarrassing to miss during your stay in Tokyo. Most people (if not everyone) are already familiar with it from Japanese documentaries, news and movies, we refer to the great pedestrian crossing in Shibuya.
There are many spots around this intersection that shall allow you to frame it from different angles, but a simple one that we recommend is from right outside Shibuya Station, where the lovely Hachiko dog Memorial Statue is. A picture from here not only shows the greatness of all the commercial lightboards and videos, but also takes the viewer on a first person view point, giving the feeling of being there.
If you visit it during the day, make sure you return by nighttime, when all the lights give a complete different atmosphere.
Asakusa & Sensoji Temple
Nothing screams "Japan!" more than the image of temples, shrines, tall pagodas, decorated paper lanterns, delicious food and the most creative souvenirs. All of these can be found in Asakusa, particularly around the Sensoji Temple.
 Renown as the most traditional and historical site in Tokyo, this area alone provides enough to spend an entire day just walking around, eating and taking pictures. Other than the great paper lantern of the Kaminarimon Gate, at the entrance towards Sensoji Temple, there is no particularly recommended spot for pictures, since anywhere around here is great! Just make sure you charge your camera before getting here because it will run out for sure.
Tokyo Metropolitan Government Building
From all the skyscrapers around the city, this building has a great view from its 45th floor observatory. The view gives a breathtaking panoramic sight of all of Tokyo.
It is possible to see the contrast between the concrete buildings rising up to the sky and the green lower spots of Shinjuku Gyoen National Garden and Yoyogi-koen Park.
If visited during the day, make sure you return by around sunset for a unique picture to show friends and family back at home.
Kabukicho
Staying within the Shinjuku area, and just a few minutes walk away from our Sakura House Lounge Office, is another site you may have seen in Japanese movies and TV dramas, the area of Kabukicho.
It is best to visit this area at nighttime, when all the lights decorate the streets as if it where still daytime. Not for nothing it is said to be the city area that never sleeps.
As with Asakusa, walking around shall offer plenty to discover and enjoy. This is the area that has the popular Robot Restaurant, a real size Godzilla popping from up of a cinema's rooftop, creative "izakayas" and bars, and if visiting during spring it is worth visiting Hanazono Shrine for some nighttime cherry blossoms viewing.
Harajuku
Finally, an area that also allows for an entire day of discovery is Harajuku. If you have an social media account and follow some Japan loving photographers, you probably saw an image like the one above. This is our recommended spot at the escalator entrance of Tokyu Plaza.
This spot shows the breakthrough modern designs that characterize Japan, and particularly the overwhelming creative strength of this side of town.
Of course, after taking your pictures here, it is mandatory to visit Takeshita Street, with its thousands of shops, allowing for many more pictures, purchases, food tasting and more. Our Design Festa Gallery is also located here, so make sure to visit it to see the latest art exhibitions. And for a nice meal, nothing beats Sakura Tei and its okonomiyaki & teppanyaki menu.
All in all, these are just a few of the areas you can visit to get some unique pictures while experiencing life in Tokyo. And even better is that, when staying at a SAKURA HOUSE Share House or Guest House, it is possible to chat with experienced travelers that can get you even more tips on places that maybe we don't even know about.
So if looking for your home away from home in Japan for your upcoming trip to Tokyo, Kyoto or Izu, contact us anytime!
Our staff continues to work hard all year round to provide all the support to make your stay an absolute success.
SAKURA HOUSE
Nishi-Shinjuku K-1 Bldg. 2F
7-2-6 Nishi-Shinjuku, Shinjuku-Ku Tokyo, Japan
Postal code: 160-0023
Google map
From Japan:
From outside Japan:
Mail:
Office hours:

8:50 am to 8:00 pm
We are open every day of the year.
Tokyo time:

17:10(We are open now!)