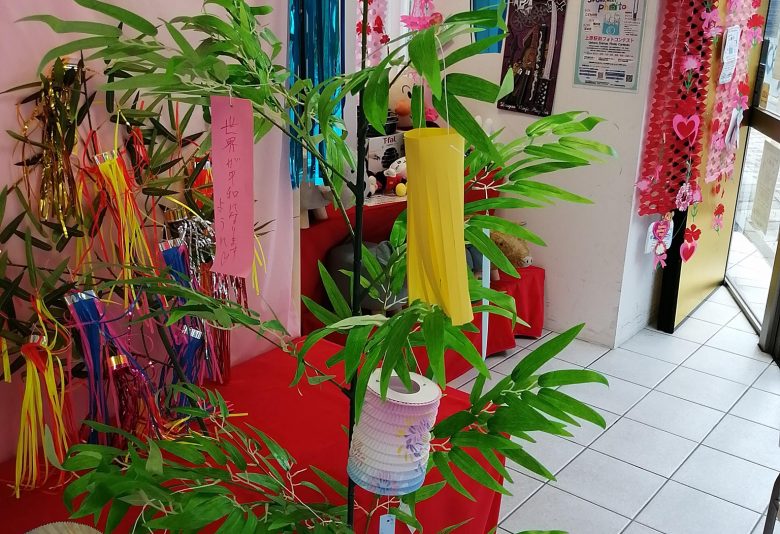 2021/07/24 (Sat)
Living in Japan
Tanabata at Yoyogi Uehara
Summer holidays started and Japanese people enjoy their day off with their family or traveling home. Basically Tanabata is the symbol for summer in Japan and the beginning of the summer matsuri season.
The legend of Tanabata


Tanabata (Star festival) is happening on July 7th. The legend says the deities Orihime (Vega) and Hikoboshi (Altair) meet on this day. The Milky Way (heavenly river) separates these lovers, and they are allowed to meet only once a year. However if it is raining they can not meet each other.
We found this cute Tanabata decoration close to Yoyogi Hachiman station. This one was especially for children. On Tanabata you write your wish on a small paper, hang it on a bamboo tree branch and hope that it becomes true. If there is Tanabata you can find almost everywhere decorations, even in Shopping malls.
Yoyogi Hachiman and Yoyogi Uehara, perfect location for moving to Tokyo
Yoyogi Hachiman and Yoyogi Uehara are actually nice locations to start your new life in Tokyo in case you are moving to Tokyo. 
This area is very popular among foreigners and japanese families and has some retro stylish atmosphere. You can find many embassies around or european style bread shops.
If you like to live close to the center of Tokyo but prefer a quiet neighborhood and nature than Yoyogi Uehara and Yoyogi Hachiman are our recommendations. Meiji Jingu Shrine and Yoyogi Park are in walking distance. Just the perfect place to explore the city on your day off!
SAKURA HOUSE YOYOGI UEAHRA NISHIHARA (SHARE HOUSE)
SAKURA HOUSE
Nishi-Shinjuku K-1 Bldg. 2F
7-2-6 Nishi-Shinjuku, Shinjuku-Ku Tokyo, Japan
Postal code: 160-0023
Google map
From Japan:
From outside Japan:
Mail:
Office hours:

8:50 am to 8:00 pm
We are open every day of the year.
Tokyo time:

16:10(We are open now!)