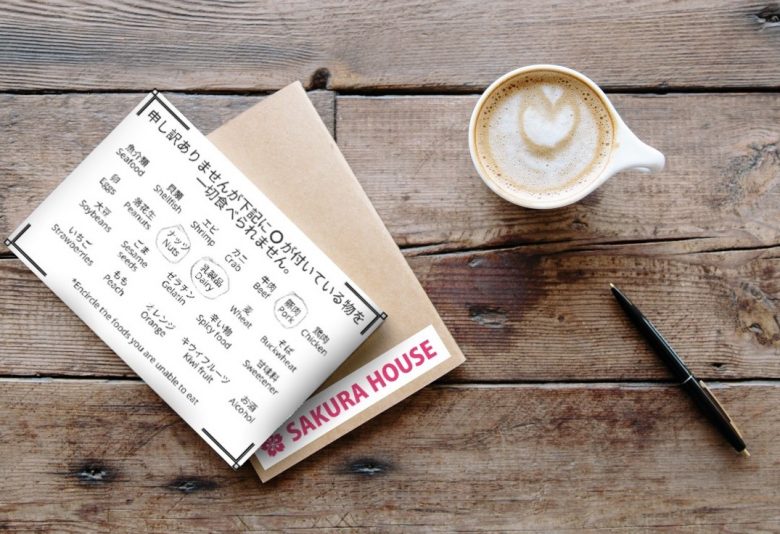 2021/09/09 (Thu)
Living in Japan
Allergy card
On a daily basis we get several inquiries from people looking for accommodation in Japan and we are always ready to search the best home away from home from our varied apartment, share house, guest house dormitory and vacation rental units in Tokyo, Kyoto and Izu. But our service is not limited to just housing in Japan. We like to push ourselves further on making every foreign traveler's trip as successful as possible.
One of the biggest limitations that most travelers encounter is the Japanese language. Communicating can be a problem, even for the experienced traveler. Therefore, in continuance of our previous Tip about dealing with allergies in Japan, we have prepared a simple card that may allow those with food restrictions to communicate better their needs when dining out alone or with other housemates.

Simply right click on the image above and save it in your computer. Print out as many as you need and circle any of the foods that you are unable to consume. Then, just show it to the waiter or shop staff so that they can accommodate your needs.
If your allergy/restriction is not included here, make sure you contact our friendly multilingual staff and we shall be happy to let you know how to best communicate your allergy to the restaurant/shop staff when enjoying the unique Japanese cuisine.
SAKURA HOUSE
Nishi-Shinjuku K-1 Bldg. 2F
7-2-6 Nishi-Shinjuku, Shinjuku-Ku Tokyo, Japan
Postal code: 160-0023
Google map
From Japan:
From outside Japan:
Mail:
Office hours:

8:50 am to 8:00 pm
We are open every day of the year.
Tokyo time:

22:35