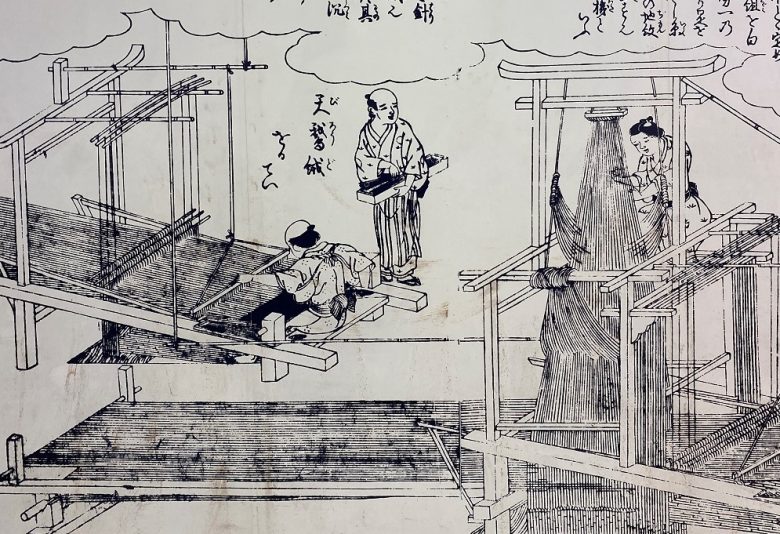 2021/09/21 (Tue)
Living in Japan
The birth of high class weaving, Kyoto's Nishijin area
Throughout history different areas in Kyoto have been specializing in different crafts, like the "sake" of the Fushimi area, the pottery from Kyomizu or the green tea of Uji. All of these areas continue to have ongoing enterprises specializing in the product they are known for the best and so is the case as well for the area of Nishijin, where our Kyoto share house, guest house, semi-apartment and private Machiya Houses are located.
Nishijin is well known for the Nishijin-ori style of weaving. Even to this day, many people from all over Japan, and even from overseas, come to this area to purchase unique designs that show the dedicated craftmanship that this area treasures. Lets take a quick look into the aspects that have made Nishijin best known for its traditional weaving.
When making a kimono or an obi, there are basically two ways to give it its beautiful design. One is to dye or paint on the kimono (Yuzen dyeing), the other is to meticulously weave different color of threads to make the design while making the kimono or obi itself (Nishijin weaving).

Yuzen dyeing was perfected in the 17th century by Kyoto paintor Miyazaki Yuzen. His methods included the Katazome Yuzen, which used the application of dyes on the kimono via stencils, and Tegaki Yuzen, which used the application of dyes directly by hand and brush ("tegaki" meaning "by hand" in Japanese). This later one is known to be the highest grade of Yuzen product.
Having been a fan painter originally, these type of decorations attracted attention since they included many designs usually used on fans. It later evolved into "Marutsukushi", with an attractive decoration of circular flowers.

Nishijin weaving was originally developed thousands of years ago in the sphere of the Imperial Court. Many methods within Nishijin have developed throughout the years, but the most known is Tsuzure, which many may have already seen during the great Gion Matsuri festival. Many of the parading floats of this festival are decorated with tapestries created with the Tsuzure weaving method.
Weaving in this method is done through the "monhori" style, where the pattern to be created is input into the loom.
In contrast with this the "Tebata" method uses a hand loom and is considered to create a higher class product.

Although having decreased in popularity due to its high cost, these type of kimonos and obi weaving products continue to be searched for by connoisseurs and special events such as wedding ceremonies.
Also, other products have emerged throughout the year to keep the attractive of this historical treasure alive, such as bags, wallets, neckties and even earrings.

It is possible to see more of the history of this ongoing craftmanship all around the Nishijin area, but particularly in the Nishijin Textile Center just a walk away from SAKURA HOUSE KYOTO. Here, it is also possible to see some unique kimono and obi pieces in a parade held daily and also purchase many different products.
SAKURA HOUSE
Nishi-Shinjuku K-1 Bldg. 2F
7-2-6 Nishi-Shinjuku, Shinjuku-Ku Tokyo, Japan
Postal code: 160-0023
Google map
From Japan:
From outside Japan:
Mail:
Office hours:

8:50 am to 8:00 pm
We are open every day of the year.
Tokyo time:

19:14(We are open now!)