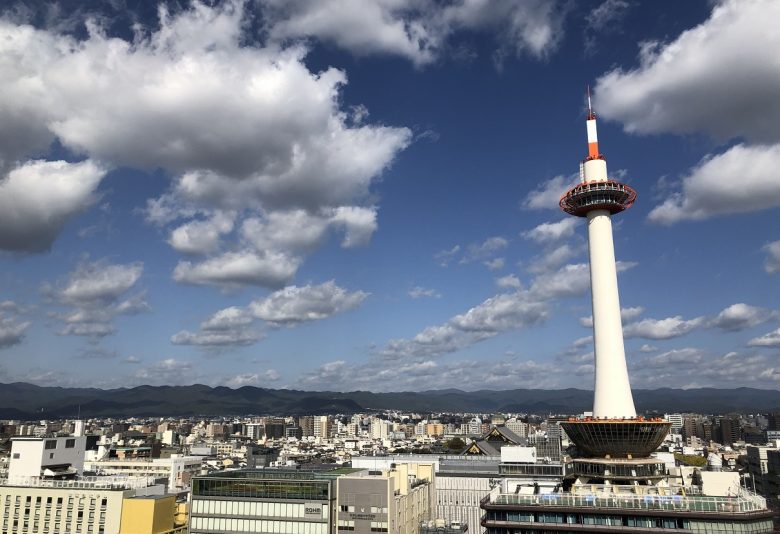 2021/07/30 (Fri)
Living in Japan
Discovering Kyoto: Kyoto Tower
Imagine that the time has finally come, you managed to complete the requirements to undergo your study program in Kyoto, maybe found a local company that shall give you the opportunity to improve your skills or take you in as an intern, or maybe you just decided to come and enjoy the city. One thing is certain, the first thing you shall see upon getting off the train at Kyoto Station is the great Kyoto Tower.

This unique building does not only stand out due to its modern design within a city known for its tradition and historical look, but also because it is the tallest structure within Kyoto City. In order to preserve the beauty of Kyoto and its many machiya houses and shops, the local government has set a limit on the height for constructions made in the city. However, there was an exception just for this tower and its 131 meters of height.
Beginning its construction on 1963 and being completed on 1964 to match with the international world athlete games of the same year, the design of it was made by modernist architect Mamoru Yamada and Kyoto University's engineer Makoto Tanahashi. In contrast to other such emblematic structures, such as the Tokyo Tower, Kyoto Tower consists of a intricate stack of many steel rings carefully placed on each other, giving it the particular look of that of a candle.
The inside has several shops including kimino rental, restaurants, goods, sweets and food stores. There is also a hotel and, up until June of 2021, there was also a public "onsen" bath that has unfortunately closed its business since then.

The main attraction is, without a doubt, its large deck with 360 degree view of the entire Kyoto City and even a little bit of Osaka. Right on the first year of opening its doors, 1 million people visited the observation deck.  This is certainly a great way to know where your places of interest in the city are located and which is close to which. Everything is informed in several languages, allowing for easy understanding. There is an entry fee to access the deck, but it is worth it. Also, many unique goods are sold at the bottom of the observation deck. Perfect chance to get some special souvenirs.
You can also check the view virtually on the tower's website: https://www.kyoto-tower.jp/en/

Right across from it, at the top of Kyoto Station, there is the a Sky Way course that also allows you to get a general view of the city without any cost, but at a much lower height.

If visiting this area, there is an interesting spot at the end of the Sky Way walkway known as the "Ramen Street". This is an indoor area with 9 different ramen shops specializing in the typical flavors of the main areas of Japan, going all the way from Hokkaido's Sapporo style to Fukuoka's Hakata ramen.

After sightseeing, doing some shopping and having a nice meal, it is time to head to your room at Sakura House Kyoto. For this you can head underground and catch the subway right under Kyoto Station. The Subway Karasuma Line takes just 9 minutes (5 stops) to get to Imadegawa Station. From there, a 15 minute walk or 10 minute bus ride shall allow you to reach your share house, or private house, without any delays and enjoy the rest of your stay in Kyoto.

Depending on the time of your arrival, there are some bus lines also stopping just behind our houses, so feel free to inquire with us for the best option.
Getting to Sakura House Kyoto from Kyoto Station:
SAKURA HOUSE
Nishi-Shinjuku K-1 Bldg. 2F
7-2-6 Nishi-Shinjuku, Shinjuku-Ku Tokyo, Japan
Postal code: 160-0023
Google map
From Japan:
From outside Japan:
Mail:
Office hours:

8:50 am to 8:00 pm
We are open every day of the year.
Tokyo time:

17:42(We are open now!)