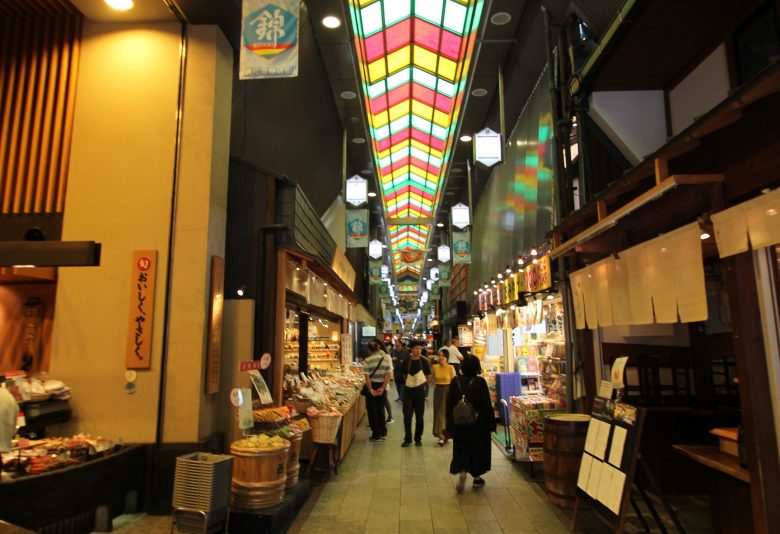 2021/08/31 (Tue)
Living in Japan
Discovering Kyoto: Nishiki Market
From all the wonderful aspects that attract travelers, students and foreign workers to Japan, one that can not go unnoticed is the great variety of food. It is well known that it's easy to go to any of the convenience stores and get a quick meal, or buy one of the hundreds of instant ramen soups at the local supermarket. However, every city has a good variety of local fresh produce available to those looking to dive deep into the flavors and culinary craft of traditional Japanese ingredients.
In this new Sakura Tip, we briefly introduce a unique part of Kyoto which many may have already seen in pictures or during their previous visit, the Nishiki Market.

Whether in search of a quick snack or a unique souvenir to take back home, the Nishiki Market has over 100 shops with everything from fresh vegetables to traditional bronzeware, sushi shops, souvenir shops and some of the most exquisite ingredients difficult to find, like local "Kyo-yasai" (Kyoto specialty vegetables).

With a history of several centuries and over a hundred year shops, the market usually opens from 9am to 6pm, but each shop varies not only in open hours but also open days. It extends about 400 meters through Nishikikoji-dori Street in Downtown Kyoto, the main business area between Shijo-Kawaramachi and Shijo-Karasuma. It is easy to access from SAKURA HOUSE KYOTO Machiya Houses either by subway from Imadegawa Station, or by bus stopping just behind the houses.
Since the market street is all under cover, even on a rainy day it makes a good destination to visit and enjoy.

The shop owners usually call out to visitors offering food samples, which can sometimes even make one have a complete lunch unnoticed just by sampling products.

It is recommended to arrival somewhat early, since it can get quite crowded, specially during the weekends and lunch time. Several restaurants also populate this market, giving a great chance to have a nice fresh handmade meal with some of the ingredients that you can also purchase to take back home.

As mentioned before, food is not the only characteristic element of this spot of Kyoto. Many shops offer traditional crafted goods such as cooking knives produced by a former sword producing family, bronzeware cooking utensils, wood crafted decorations, engraved chopsticks, iron tea pots, "wagasa" (Japanese style umbrellas) and many more.

With the passage of time, although many shops have endured for centuries, some newer shops continue to appear. Some also open their business for a limited time, making this traditional market a contemporary and continually attractive destination for both travelers and local.

Without a doubt, this is a place where it is easy to spend an entire day just indulging and enjoying the culinary and artistic aspects of Kyoto. History endures in all its forms in the Nishiki Market, and it continues to evolve even today, so be sure to re-visit this place during your future travels. And if you haven't yet, make sure to keep a place in you travel plans to spend some quality time here, either alone, with friends or with the family.
SAKURA HOUSE
Nishi-Shinjuku K-1 Bldg. 2F
7-2-6 Nishi-Shinjuku, Shinjuku-Ku Tokyo, Japan
Postal code: 160-0023
Google map
From Japan:
From outside Japan:
Mail:
Office hours:

8:50 am to 8:00 pm
We are open every day of the year.
Tokyo time:

01:52