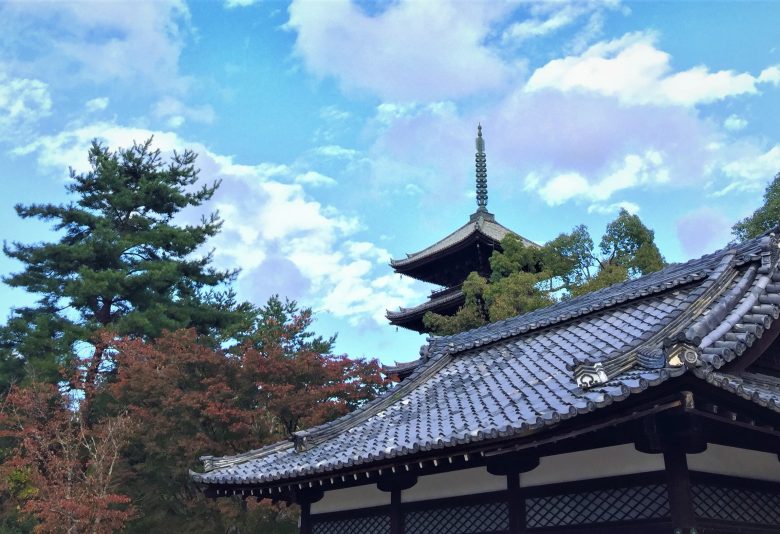 2021/08/18 (Wed)
Living in Japan
1 day tour in Kyoto: Kinukake no michi
After arriving in Kyoto for a Japanese study program, intern at a Japanese company, continued university study, work or simply just travel, it can be difficult to choose were to start your discovery of the city. If enjoying a long term stay, it is easy to get caught up in the daily obligations, and for short term stays, time is most valuable.
So here is a quick and simple guide by our special SAKURA HOUSE KYOTO staff's recommendation to best make use of one of your days in Kyoto City.
This tour focuses mainly in "Kinukake no michi", a commonly trailed road during the Muromachi Period since it connects Kinkaku-ji with Arashiyama in the far west. On the way, it is possible to see 3 World Cultural Heritage sites while enjoying the typical glamour of the Muromachi Period.

After a nice breakfast at one of our Machiya houses of your choice, or at any of the several cafes and shops around the neighborhood, hop on bus 59 bound for Ryoanji Temple Via Kinkakuji Temple at "Imadegawa Jofukuji" bus stop a short walk away.

*This map may show other possible routes of access.
From there enjoy the 12 minute ride through Senbon Dori street to "Kinkakujimichi" bus stop. From here walk in the same direction as the bus was going and, on the way, take your time to see some of the souvenir shops and their creative product (or also have breakfast here if you skipped it earlier).
If not interested in buying anything yet, a 4 minute walk shall allow to reach Kinkaku-ji, also known as The Golden Temple.

*This map may show other possible routes of access.
If also interested in getting to know the surrounding neighborhood area, it is possible to walk directly from SAKURA HOUSE KYOTO, reaching The Golden Temple in about 30 minutes (if not distracted by the several shops on the way).

Once having taken some nice pictures of one of Kyoto's most iconic temples, don't forget to visit Fudogama Teahouse on the way out for a nice cup of matcha green tea and "Kinkaku Cake", a sweet wagashi only available at this temple.
Reinvigorated, head outside to "Kinukake no michi", the street by the temple entrance. From here you can either walk 17 minutes in the opposite direction from the "higashidaimonji" mountain, with the Chinese caracter for big (大) to Ryoan-ji Temple, or take bus 59 bound for Ryoanji Temple at "Kinkakimuchi" bus stop. It takes about 11 minutes to reach "Ryoanji mae" bus stop.
If the weather is nice we recommend walking, as there are many unique shops on the way.

*This map may show other possible routes of access.
At Ryoan-ji Temple, take your time to enjoy its unique ambiance and, of course, its emblematic rock garden. A special feature of this garden is that there are 15 rocks laid out, but it is never possible to see all 15 at one glance from any point of view. Apple founder Steve Jobs is said to have visited this temple several times during his trips as he was enchanted by the simple beauty of this particular rock garden.
Located below the temple's main buildings grounds there is a spacious park area with a large pond and a restaurant specializing in "Yudofu" (boiled tofu). If getting hungry already, this is a nice place to indulge in one of Kyoto's special dishes.
Heading out of Ryoan-ji Temple, another 12 minute walk (or 4 minute bus ride from "Ryoanji mae" to "Omuri Ninnaji" bus stops on bus 59) shall allow to reach Ninna-ji Temple's main southern gates.

*This map may show other possible routes of access.
With some of the most beautiful Japanese gardens, typical architecture and a most relaxing atmosphere, this temple receives visitors all year round but particularly shines during the spring and autumn seasons.

One thing to keep in mind is that the cherry blossoms of this temple, known as Omuro Cherries, bloom later than other areas in the city. To fully enjoy its beauty it is best to visit the temple during the end of the spring season, usually around mid April.

*This map may show other possible routes of access.
With a full camera of pictures, it is possible now to head to the main south gates of Ninna-ji Temple to board once again on bus 59 bound for Shijo Kawaramachi at "Omuro Ninnaji" bus stop and alight at our starting point, "Imadegawa Jofukuji" bus stop, to get back to SAKURA HOUSE KYOTO.

If wanting to continue the discovery of Kyoto, a great advice is to walk just 2 minutes from the temple's gates to "Omuro-Ninnaji" train station (Randen Keifuku Electric Railroad) and head towards Arashiyama, famous for it Bamboo Forest trail and Togenkyo Bridge, as well as Tenryu-ji Temple, another World Cultural Heritage Site. But we shall cover this area on another post, so stay tuned!
SAKURA HOUSE
Nishi-Shinjuku K-1 Bldg. 2F
7-2-6 Nishi-Shinjuku, Shinjuku-Ku Tokyo, Japan
Postal code: 160-0023
Google map
From Japan:
From outside Japan:
Mail:
Office hours:

8:50 am to 8:00 pm
We are open every day of the year.
Tokyo time:

09:21(We are open now!)