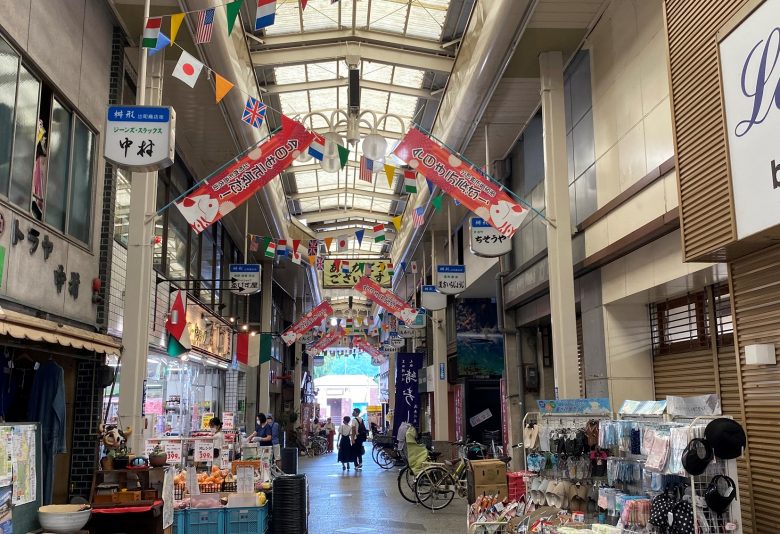 2021/08/09 (Mon)
Living in Japan
Discovering Kyoto: Demachi Masugata Shopping Street
While staying in Kyoto, there's a magic to wondering around the city. Either alone or with the housemates from our share house, guest house, semi-apartment or private house units, every outgoing is an adventure. Although, during summer, it may be better to wonder around places that have protection from the unbearable sun heat. Thankfully there are numerous arcades around town, and one of these is located in the area of Demachiyanagi, with easy access from Sakura House Kyoto.

Heading east from Sakura House Kyoto to Kamo-gawa River, and past the Kyoto Imperial Palace, is a bustling area with several shops, new and old, and many of them are located in Demachi Masugata Shopping Street. It takes about 30 minutes to reach on foot or about 15 minutes by bus or bicycle.
This 200 meter arcade has everything you may need to get your life started in Kyoto, and with some local goods as well. Many of the grocery stores offer local produce and freshly delivered fruits and vegetables from within Kyoto and the surrounding prefectures. If you are a student in Kyoto and would like to keep your budget low, this is a good place to try and get a good bargain with the shop owners.

For a wider range of products, there are also 2 supermarkets offering special sales and a competitive price to get your hands on some special deals. For handy house products and daily goods, there is also a 100 yen store.

For book lovers, there are several shops offering old and new publishes, and some ancient gems too. Some of these also have a dedicated area with books at just 100 yen! This makes it a good excuse to re-visit these bookstores and find something really unique and interesting for all ages. Another shop has several records on display with both modern and classic options.

A special one of these bookstores is CAVA BOOKS, having a bookstore and café on the 1st floor, and on the 2nd flor not just one, but two cinema rooms with regularly changing screenings of indie films and also weekly events.

From a sushi restaurant to a second hand clothes/goods store, a small cafe/cinema and a 100 yen shop, it is possible to spend an entire day just in this area discovering and enjoying all it has. But just before leaving, at the eastern entrance of this arcade, there is one special shop that deserves a visit to get a unique feeling of life in Kyoto and its delicacies.

"Demachi Futaba" is a "wagashi" (Japanese sweets) shop that has been in business since 1899 and continues to receive customers from all over Japan. They sell several types of "mochi" (rice cakes) with a special menu changing throughout the year on what's best in season and traditionally consumed during the year round festivities. Their specialty is the "mame mochi", a rice cake with azuki bean paste filling wrapped in rice cake mochi dough with black beans in it. The reason for its ongoing popularity over their more than 120 years of business, is their use of simple and fresh ingredients and their production on the same day. Their kitchen is open to the public view, and it is even possible to see how their ingredients get delivered even throughout the day to keep up with the ongoing demand.
If planning to visit their shop, make sure you have enough time because there is always a long line of customers waiting their turn to order, particularly over the weekends.

Finally, with a good new book in hand, a full belly and some fresh "wagashi" as dessert, it is time to head over to the Kamo-gawa River, just a few minutes away on foot, to sit down and enjoy the rest of the day in nature.
SAKURA HOUSE
Nishi-Shinjuku K-1 Bldg. 2F
7-2-6 Nishi-Shinjuku, Shinjuku-Ku Tokyo, Japan
Postal code: 160-0023
Google map
From Japan:
From outside Japan:
Mail:
Office hours:

8:50 am to 8:00 pm
We are open every day of the year.
Tokyo time:

01:37