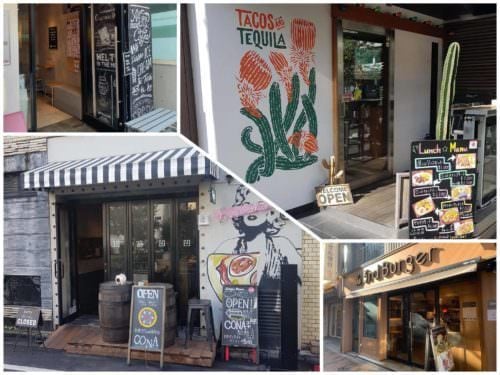 2019/11/18 (Mon)
Living in Japan
Explore Tokyo: Shibuya South – Ebisu and Hiroo
In our Explore Tokyo series we would like to introduce different areas in Tokyo. To celebrate our new opening SHIBUYA HIROO, a share house with 15 rooms just 1 minute from Hiroo Station, our first article will focus on Shibuya's districts Ebisu and Hiroo!

The districts Ebisu and Hiroo are located in the south of Tokyo's Shibuya ward, located on the west side of Ebisu Station.
Transportation
The area around Ebisu and Hiroo is being serviced by the following train lines:
Hibiya Line (Ebisu Station & Hiroo Station)
Saikyō Line (Ebisu Station)
Shonan-Shinjuku Line (Ebisu Station)
Yamanote Line (Ebisu Station)
Shopping
Atré shopping arcade
Atré belongs to the East Japan Railway Company (JR East), therefore it's shopping malls can be found at big JR stations.

Fashion, food, household goods, cosmetics, accessories, groceries, stationery, pretty much everything can be found on 7 floors in the main building and 8 floors in the west hall. You can find detailed information about the floors and shops here.

Don't forget to check out one of the many confectioneries like the Belgian high quality chocolate brand GODIVA, Hugo & VICTOR a sweets brand from Paris, France or the Japanese confectionery Jiichiro with their famous Baumkuchen.


Ebisu Mitsukoshi at Yebisu Garden Place
In Ebisu Garden Place you can find Mitsukoshi, one of the most famous high-end department stores in Tokyo, offering stylish brand clothing and delicious food on 4 floors. Find more information here.

You can reach Yebisu Garden place via the Yebisu Sky Walk directly from Ebisu Station.

Hiroo 5-chome Shopping Streets
For people who want to emerge into a nostalgic atmosphere while shopping in Tokyo, this area is the place to go. It survived the bombing during WWII and therefore still has many Meiji and Taisho period buildings.



HIROO PLAZA
HIROO PLAZA is a hopping mall with a high-end, international grocery store & a space for concerts & other events.



Food and Drinks
Ebisu and Hiroo are famous for their many restaurants and international cuisine. Your taste buds won't get bored here! From Italian over Spanish and French to Mexican restaurants, you will find all of these without even leaving the district.




Listing up all options would possibly blow up our staff blog, but let's look at a few suggestions and recommendations.
Yebisu Garden Place Tower,  has "sky dining" restaurants on the top 38th and 39th floors with panoramic views over Tokyo
AFURI, probably the most-known ramen restaurant in Ebisu
L'Antica Pizzeria da Michele offers authentic Neapolitan style pizza
Le Chateau de Joël Robuchon, a replica of a Louis XVI French château which houses three Michelin-starred restaurants
Culture and Entertainment
Museums
Tokyo Photographic Art Museum
Technically in Meguro, bur let's not be too picky here, there is the Tokyo Photographic Art Museum. You can find it in Yebisu Garden Place.
Latest since the Anime Neon Genesis Evangelion, Yebisu beer should be known all around the globe. And they do have a museum in Ebisu. There are free tours as well as tours for a small charge between 500 and 1000 JPY available. Also there is a Tasting Salon where you can try different types of Yebisu beers (fees apply). Further info.
Opened in 1966, the Yamatane Museum of Art specialized in the nihonga style of Japanese watercolour painting. More information here.

Temples and shrines
Shounji Temple is a Zen temple founded by Lord Kuroda Tadayuki, daimyo of the Fukuoka domain, in honor of his father, Kuroda Nagamasa (1568-1623).
It is unknown when exactly the Shinto shrine was built, but thought to be between 113-115 AD. It is dedicated to Kunitokotachi, Toyokumono, Tsukugui, Ootonobe, Izanagi, and Izanami.


Other
Yebisu Garden Palace Cinema
Yebisu Garden Winter Illumination from 2 November, 2019 to 13 January, 2020
Tengenji Bridge (Tengenji-Bashi)
Embassies
In Hiroo as well as the neighboring district Minamiazabu, one of Minato's districts, a lot of embassies can be found. In Hiroo itself, the following embassies are located:
Embassy of Croatia
Embassy of Czech Republic
Embassy of Burkina Faso
Embassy of Oman
Embassy of Peru
Ebasssy of Tajikistan
Embassy of Congo
Housing
Do Ebisu and Hiroo sound like a great place to live to you? Look no further, we have Apartments available in Ebisu and of course our Share House in Hiroo from December 26th, 2019:

EBISU APARTMENT
SHIBUYA HIROO

See you soon at:



SAKURA HOUSE
Nishi-Shinjuku K-1 Bldg. 2F
7-2-6 Nishi-Shinjuku, Shinjuku-Ku Tokyo, Japan
Postal code: 160-0023
Google map
From Japan:
From outside Japan:
Mail:
Office hours:

8:50 am to 8:00 pm
We are open every day of the year.
Tokyo time:

09:22(We are open now!)