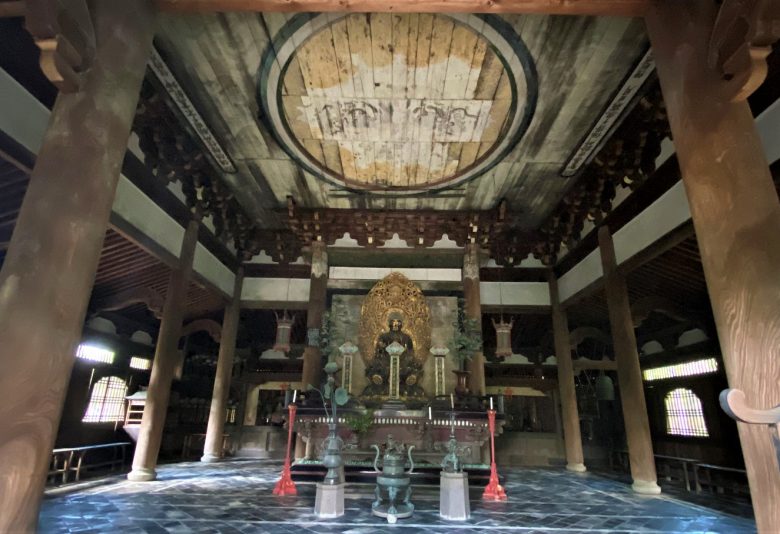 2021/10/11 (Mon)
Living in Japan
DIscovering Kyoto: Daitoku-ji Temple
A stay in Kyoto, whether it be a long term stay or a short term stay, is filled with discoveries of Japan's tradition, history and most of all modern and traditional culture. A great place to see this are the many temples around the city. From all of these we would like to focus on one that has gave birth to one of Japan's most beautiful and world wide known traditions, the tea ceremony and the aesthetic concept of wabi-sabi.

Located to the north of the Machiya share houses and private houses of SAKURA HOUSE KYOTO, Daitoku-ji is the main temple of a large area filled with 21 sub-temples and an additional two branch temples, offering some of the most beautiful Japanese garden sceneries and a traditional sense of "wabi-sabi".

Daitoku-ji emerged in around the year 1315  by the monk Shuho Myocho (also known as Daito Kokushi). Its name in Japanese means "temple of Great Virtue" and belongs to the Rinzai school of Japanese Zen Buddhism.
Unfortunately, as has happened throughout history with several other temples, the original structure suffered its destruction by fire in the year 1474 during the Onin War and has been thereafter reconstructed by the 47th head priest, Ikkyu Sojun, with the patronage of the rich merchants of Sakai and the considerable donations by historical figure Toyotomi Hideyoshi and several other daimyo warlords.

The great importance of this temple begins around the 16 century, when several members of the military at that time supported the temple's grounds by making them the place for praying to their ancestors and for preparation for their own death. Additionally, in 1585, the great daimyo and unifier of Japan, Toyotomi Hideyoshi, chose this temple as the place to bury his predecessor, Oda Nobunaga, particularly at the sub-temple Sokenin. This further increased the importance of this temple in history.
Another of the main factors that have made this temple so famous, is its connection to Sen no Rikyū and Murata Juko, known as the founders of the Japanese tea ceremony, of which both Toyotomi Hideyoshi and Oda Nobunaga were practitioners of.
Even today there continues to be a tearoom designed by Sen no Rikyū at the sub-temple Jukoin, where a large statue of him can also be seen.


"Ichi go ichi e", one of the main aesthetic concepts of the tea ceremony, which considers each meeting as a unique encounter.
From all the beautiful sub-temples located in this area, one that stands out is Daisenin. It is designed with highly valued "fusuma" sliding doors and features one of the best examples of the Zen rock gardens. These gardens represent a traditional Chinese landscape with rocks placed as mountains and islands, and white sand representing waterfalls and rivers. The gardens are designed for the gradual amazement of visitors before arriving at the main sector with a large ocean of white stones.

If looking for a real zen experience, visiting sub-temple Ryosen-an in the morning is a must. During this time, it holds early morning "zazen" (Zen meditation) sittings, giving a glimpse into the everyday life of monks here.

Most of the temples here have a special entry fee to enjoy and support their beautiful interior gardens and treasures, but a simple walk around the connecting walkways is also a relaxing experience giving a glimpse into the beauty of this part of Japanese culture and history.
It is possible to reach Daitoku-ji Temple in about 20 minutes walk (or about the same time bu bus) from SAKURA HOUSE KYOTO, passing through several stores and restaurants on the way, increasing the discovery of more of Kyoto's beauty and convenience.
SAKURA HOUSE
Nishi-Shinjuku K-1 Bldg. 2F
7-2-6 Nishi-Shinjuku, Shinjuku-Ku Tokyo, Japan
Postal code: 160-0023
Google map
From Japan:
From outside Japan:
Mail:
Office hours:

8:50 am to 8:00 pm
We are open every day of the year.
Tokyo time:

23:51