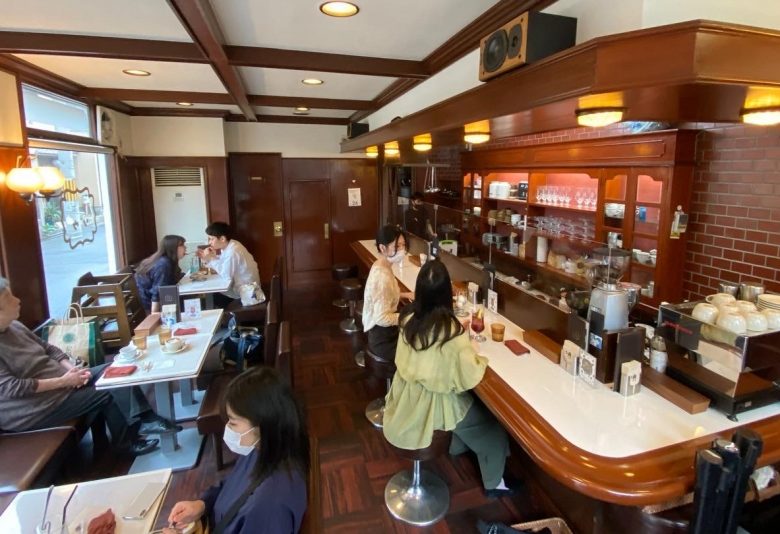 2021/08/13 (Fri)
Living in Japan
Retro life in Kyoto: "Jun-kissa"
During a stay in Japan, especially for first time visitors, it is easy to get overwhelmed by the cultural changes, study pressure, work environment or simply getting around town. A good way to cope with this is finding a place to relax, take it easy and indulge oneself. In Kyoto. with all the special atmosphere that Kyoto shops have to offer, there are some unique cafes around the city offering a temporary trip to the past and a most soothing environment. These are the "jun-kissa", or "pure cafes" in Japanese.
The term "jun-kissa" got established after the Showa era, a time when Japan was evolving after opening its doors to the western world. With a culture of tea drinking, it didn't take long for the Japanese public to adapt their palates to the special taste of coffee.
In effect, several cafes began opening throughout the entire country, but in Kyoto, the number 1 coffee consumption city in Japan with its special care for blending the traditional to the modern, this new trend got highlighted. These are cafes that have kept their interior as that of the Showa and Taisho eras.
After walking into a "jun-kissa", the wooden architecture elements and human interaction immediately gives a relaxing effect that captures everyone. From old "machiya" style townhouses turned into cafes, to greatly decorated interiors, each shop differs from the next, giving the possibility to find something special in each of them.

Their menu also varies greatly, with some specializing in coffee beans variants, ice sodas, cheap and fresh lunch menus and even special cups to drink from.
Some of the closest of these cafes to SAKURA HOUSE KYOTO are the following:
Shizuka

A cozy cafe just a few minutes on foot on the way to Kitanotenmangu Shrine or Kamishichiken.
Togenkyo

The closest option just across Imadegawa Dori with a great menu, books/magazines and friendly staff.
Kissa Zou

A cafe specializing in cream soda with their trademark cookie ("zou" in Japanese means elephant).
Sarasa Nishijin

This used to be an old "sento" (public bath) turned into cafe. having been left mostly intact, it is posible to still see remnants of this building's past.

There are certainly many options to enjoy all around the city, and Japan itself, some of them even sell their blends to enjoy at home. So our special recommendation is to get some of these, or even a cup for take away, and enjoy it in the traditional ambiance of our share house and private houses. Particularly while viewing the Japanese gardens and enjoying a nice conversation with housemates, all while enjoying ones home away from home in Kyoto.

SAKURA HOUSE
Nishi-Shinjuku K-1 Bldg. 2F
7-2-6 Nishi-Shinjuku, Shinjuku-Ku Tokyo, Japan
Postal code: 160-0023
Google map
From Japan:
From outside Japan:
Mail:
Office hours:

8:50 am to 8:00 pm
We are open every day of the year.
Tokyo time:

17:47(We are open now!)