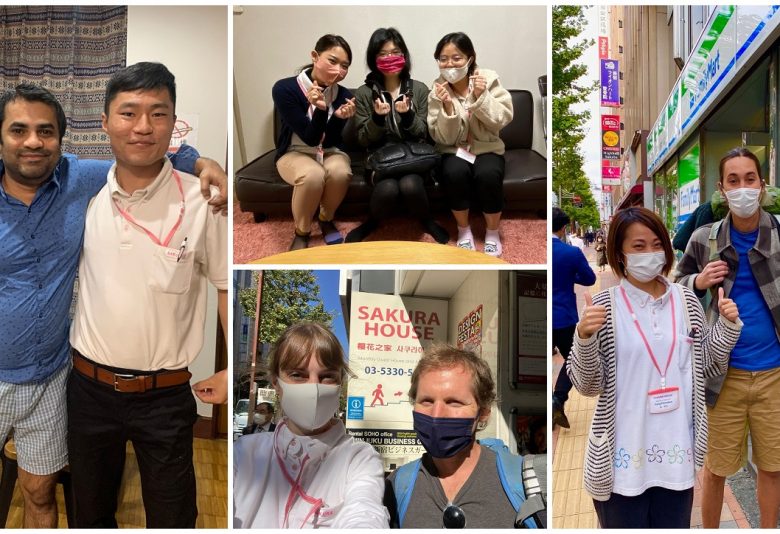 2021/12/02 (Thu)
Living in Japan
SAKURA HOUSE during November of 2021
Autumn finally arrived in Tokyo and Kyoto, and the border restrictions got loosen to allow several foreign students to have the chance to finally complete their plans to study Japanese in Japan, work at a local company, intern or pursue their business related activity. During this time we could meet new faces, discover more about different cultures and continue to find ways to improve our service for all to find their private Share House bedroom, shared Guest House bedroom or entirely private Apartment unit, as well as our large Vacation Rentals for large groups, families and special stays.
Unfortunately, just a couple of days ago, the borders restrictions have once again been severely imposed to prevent further outbreaks of the new pandemic situation worldwide. SAKURA HOUSE, however, continues to be opening its door everyday of the year to attend everyone's needs during these uncertain times. So lets look at a few of the things that have been going on this month in SAKURA HOUSE Tokyo & Kyoto.
New beginnings

As usual, we continue to welcome inquiries from all around the globe in search for a self-quarantine stay location, long term housing and short term rental options as well. Many of our new residents have already been residing in Japan and searching for a more economic option to accommodate their current needs. Ohers have changed their job and therefore were in search of living closer to their office to prevent large hours of commuting. Whichever was the case, our staff has been showing our available option both in person or online to best meet each requirement of our residents.
Time for a break

We visited our friends from Design Festa Cafe & Bar on their reopening, and we were amazed by the creativity and natural aspect of their ambiance. They are located right in between Design Festa Gallery and the delicious "teppanyaki" style cooking of Sakura Tei. Their menu is as mouthwatering as it is creative (he picture above of the plant in the pot is actually a milkshake!). A must visit when visiting the area of Harajuku. We usually stop by when going to our houses in the Harajuku area as well.
Keeping everything in order and ready

Even though many are restrained from fulfilling their dream travel to Japan, we continue to have everything ready on this side to welcome you all as soon as it becomes possible. Therefore, we are still reviewing all our Apartment, Share House, Guest House and Vacation Rental units to fix, maintain and improve their features for more comfort and a better service, a you all deserve.
Digging into culture and history

As we sometimes rush from one house to another to make it on time for a room viewing, solve a maintenance issue or clean our houses, it is usual to oversee some of the underlying aspects that have made certain areas and objects a regular part of Japanese culture and given them a profound significance in history. Due to this, we have been showing you all a bit of these aspects on our Sakura Tips, so that you can all feel a little more familiar and prepared for your upcoming trip in the future.
Enjoying autumn

Right after the "Hanami", or the season for viewing cherry blossoms, is the "Koyo" season, or viewing of the autumn leaves. As many have been very much expecting to be in Japan during this time of year, we took a few walks around the areas of our houses and apartments to show you all some of the beauty that nature had to show this year. Make sure to see some pictures on our social media!
Getting inspired

Right in the middle of November took place the acclaimed reunion of creatives from all around Japan and of course from other countries as well. We are talking about the Design Festa Vol.54. Taking place once again at Tokyo Big Sight, it was interesting to see the evolution on past participant's style as well as the eye opening art and show of new participants and their uniqueness. This is a time when we usually welcome all our residents to take part of a detailed tour throughout the event, and on this occasion we couldn't avoid remembering all of those who have walked with us during this lively time of the year. We hope to see you all soon again!
If you are also looking for a comfortable place to settle within your travel budget, feel free to share these details and more so that we can together find your home away from home in Japan.
SAKURA HOUSE
Nishi-Shinjuku K-1 Bldg. 2F
7-2-6 Nishi-Shinjuku, Shinjuku-Ku Tokyo, Japan
Postal code: 160-0023
Google map
From Japan:
From outside Japan:
Mail:
Office hours:

8:50 am to 8:00 pm
We are open every day of the year.
Tokyo time:

09:21(We are open now!)