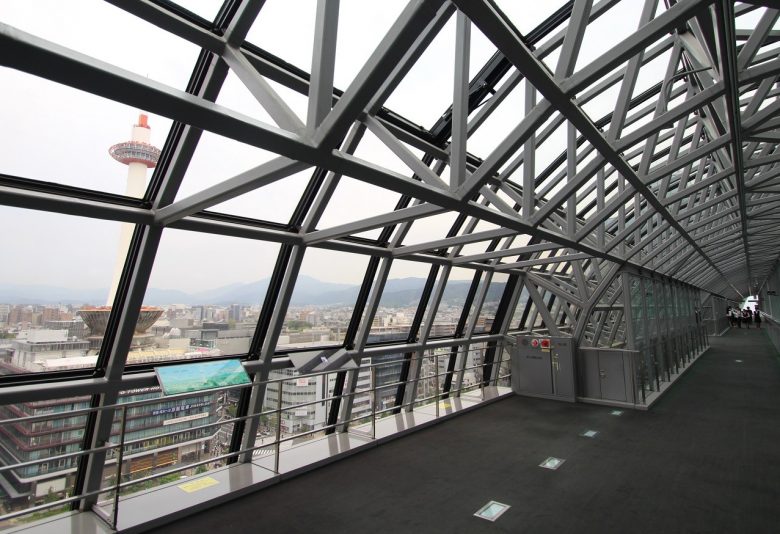 2021/09/06 (Mon)
Living in Japan
5 photo spots to keep in mind while in Kyoto
Kyoto is a great city to gradually immerse into the rich Japanese culture. It is a city with a lot of history that doesn't overwhelm visitors all of a sudden. Instead, it invites each person to discover it at their own pace and through their own interests. If photography is your liking, or if you are planning your study program in Kyoto, overseas work, internship or just your leisure travels, we introduce 5 areas to keep in mind for a convenient discovery of the city while staying at one of SAKURA HOUSE's share house, guest house, semi-apartment or private house unts.
This is a follow up of our past tip, "5 of the best photo spots in Tokyo", so make sure you see that one as well if you are considering stopping by at Tokyo as well during your stay.
Kyoto Station Skyway

We begin where post of our resident's stay in Kyoto begins, Kyoto Station. We point this one out simply because it is easy to overlook at some of the unique spots here while rushing on the way to your room/house stay. Kyoto Station is quite a unique modern structure with shops all around it, allowing for an entire days discovery, but we would like to introduce here a unique viewpoint of the city, the Skyway.

Located on the upper floors of the East Square, it is possible to get a nice view of both the city, Kyoto Tower and Kyoto Station itself from inside. From here, going further up is the Skyway tunner, a large hallway within the station's structure with large windows viewing the entire central, northern, east and west areas of the city. There is also a map located here to identify all the major tourist areas and places of interest.
Kamishichiken & Kitanotenmangu Shrine
At a 15 minute walk from SAKURA HOUSE KYOTO houses is located the oldest "hanamachi" (geisha district) in the city, Kamishichiken.

The ambiance given by the lined up machiya houses of this unique street provide a nice Kyoto-like atmosphere. This is a great alternative to the regularly overcrowded "Ninenzaka" and "Sannenzaka" in the Gion area further away. Most houses are now shops, some with several years of business, which allows to enjoy some unique treats on the way.

At the end of this street is Kitanotemnagu Shrine. This shrine is best to be visited during spring, even before the blooming of the cherry blossoms, since the shrine also has a large plum tree garden that attracts travelers from all over the country every year. During this time, the geisha practitioners of Kamishichiken welcome visitors to tea and seasonal sweets in a once in a year encounter. Something not to miss.
You can read a bit more about this part of town on our previous Sakura Tip "Discovering Kyoto: Kamishichiken".
Kinukake no michi

After visiting the Kitanotenmangu Shrine, a short walk from here is the begining og the "Kinukake no michi" road, connecting Kinkaki-ji (The Golden Temple), Ryoan-ji and Ninna-ji temples. It is possible to start the road in about 15 minutes from our Machiya houses directly as well and visit 3 of the main temples in town in one day or less.
For these it is best to start early as all 3 temples have great popularity and can have large lines to enter, particularly during vacation seasons and high tourist seasons (spring and autumn). You can read more in detail about this convenient tour on our past Sakura Tip "1 day tour in Kyoto: Kinukake no michi".
Nijo Castle & Shinsen-en Garden

Located to the south of our Kyoto share house and private house units is the historical Nijo Castle. Several events are held hear year round, with one of the most beautiful being the illumination events in autumn-winter. The inside of the rooms are decorated as they were during the Heian period and the surrounding gardens provide a deep dive into Japan's history and the unique aspects of traditional Heian court lifestyle.

A little bit further south is a little shrine with the remains of the great gardens of the Kyoto Imperial Palace, Shinsen-en Garden. This spot can get easily overlooked if not paying attention. It is just a short walk away from the Nijo Castle but provides the same level of beauty and a most unique Kyoto-like atmosphere with its eye-catching arc bridge and large pond filled with koi carp fish.
If interested, you can read a bit more about it at our "Discovering Kyoto: Shinsen-en Garden" tip.
Kyoto Gyoen National Garden & Kamo River

Just a 15 minute walk away from SAKURA HOUSE KYOTO is the great Kyoto Gyoen National Garden, a large public park area in the surroundings og the Kyoto Imperial Palace. This is not only a great place to get pictures of the seasonal flowers and the Imperial Palace itself, but it is also a very nice place to begin your discovery of Kyoto. Its central location allows access to many other destinations from here, one of them being the Kamo River.

This river extends all the way from north to south of the city and is a wonderful place to walk and get some nice sunset pictures with emblematic sights of the regular life in Kyoto. If walking south, this river connects to the main business area of the city and Gion, one of the most popular geisha districts, allowing for even more unique pictures and an endless discovery of life in Japan's old capital.
SAKURA HOUSE
Nishi-Shinjuku K-1 Bldg. 2F
7-2-6 Nishi-Shinjuku, Shinjuku-Ku Tokyo, Japan
Postal code: 160-0023
Google map
From Japan:
From outside Japan:
Mail:
Office hours:

8:50 am to 8:00 pm
We are open every day of the year.
Tokyo time:

01:51