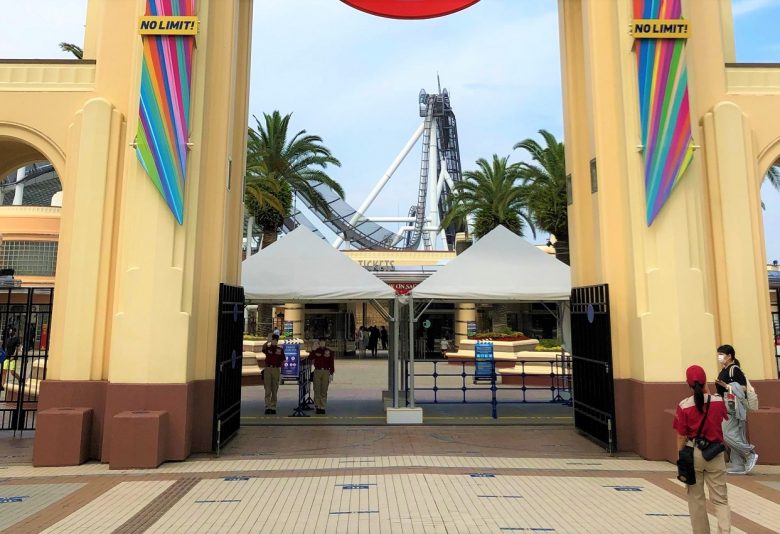 2021/10/28 (Thu)
Living in Japan
Reaching USJ from SAKURA HOUSE KYOTO
While enjoying a stay in Kyoto, there is a lot to see and experience in terms of Japanese history, culture and scenery, but not everything has to be about just these aspects. Sometimes many foreign students, workers and interns are looking for some thrill and adventure that may help them take a break from their daily obligations. On this Sakura Tip, we show you how to easily access and enjoy one of Japan's most visited entertainment spots, the Universal Studios theme park of Japan (USJ) in Osaka.

Traveling towards Osaka from Kyoto can easily take over one and a half hours and over 1,000 yens, but it doesn't have to be that way. Here is a most convenient and cheaper way to do so. To begin, we shall head from SAKURA HOUSE KYOTO towards Imadegawa Station, right across the Kyoto Imperial Palace.
Once at Imadegawa Station (今出川駅), board train on platform 1 (departing towards Kyoto Station and Takeda Station) and alight at Shijo Station (四条駅), the 3rd stop.
From there, a transfer to the Hankyu Line (Karasuma Station, 烏丸駅) shall be required. This is done all underground since both stations are subway station. Board the train on platform 2 of Karasuma Station departing towards Osaka-Umeda Station (大阪梅田駅), which is the final stop of the line. To save the most time, make sure to board on the Rapid Express (快速急行) marked in yellow on the sign board or any of the Limited Express options (特急) marked in red on the sign board.
Once at Osaka-Umeda Station, the last transfer shall take place by walking to Osaka Station nearby. This can be a tricky route, so make sure to see and follow the signs indicating the direction to Osaka Station.
Once at Osaka Station, look for the Osaka Loop Line (inner tracks), "大阪環状線(内回り)", located on platforms 1 and 2. From here a 5 minute ride shall allow to reach Universal City Station (ユニバーサルシティ駅), located right at the entrance area of the theme park.
*For those who have been in Tokyo before, this line is very similar to the Yamanote Line, since it makes a loop all around Osaka city. So if you miss your stop or mistake the direction of the train, you can always get off and board the train in the opposite platform to return.
The entire travel time can take less than 1 and a half hours and the total fee ends up being 840 yen for a one way route, making it both cost and time effective. Our recommendation is to depart early in the day to avoid both crowded trains and long waiting time at the park entrance. Doing so also allows to enjoy an entire day in the park and easily be able to return back to SAKURA HOUSE KYOTO all in one same day
To recap, the general route is:
SAKURA HOUSE KYOTO
⇩ walk
Imadegawa Station (platform 1, towards Takeda)
⇩ (8 minutes)
Shijo Station
⇩ transfer to
Karasuma Station (platform 2, towards Osaka-Umeda)
⇩ (40 minutes)
Osaka-Umeda Station
⇩ walk
Osaka Station (platform 1 & 2, towards Nara and Tennoji)
⇩ (5 minutes)
Universal City Station
If you are planning your next stay in Kyoto to complete your study program, undergo an internship at a local Japanese company or continue your professional studies at a local university, get in touch with our staff to help you find your best place to stay in Kyoto city. And while enjoying life in Kyoto, gather your friends, housemates or roommates and let's enjoy the beauty of Kyoto and its convenient location in the center of the Kansai area.
SAKURA HOUSE
Nishi-Shinjuku K-1 Bldg. 2F
7-2-6 Nishi-Shinjuku, Shinjuku-Ku Tokyo, Japan
Postal code: 160-0023
Google map
From Japan:
From outside Japan:
Mail:
Office hours:

8:50 am to 8:00 pm
We are open every day of the year.
Tokyo time:

23:53