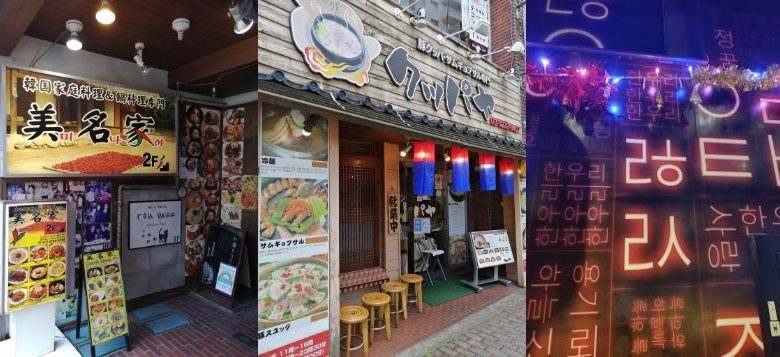 2021/08/11 (Wed)
Living in Japan
Discover Korean Town of Tokyo "Shin-Okubo"
Have you ever been to the Korean Town Shin-Okubo?
In Japan, Korean Wave (Korean cultural boom) is growing more and more every year.
K-Pop, Korean food and Korean cosmetics has been especially a catching feature in Shin-Okubo.
Many people visits Shin-Okubo to go for shopping for the Korean cosmetics andafter can enjoy the Korean food in the same area while listening to Korean music.
These are some examples of Korean cuisine that is unique and different from Japanese cuisine.



This is a Korean food named NakGopSae, which is a spicy casserole named from its three protein ingredients:
Nakji (Octopus), Gopchang (beef small intestines) and Saewoo (shrimp)
In the end, you can enjoy eating with fried rice or noodle.

ChiMaek, which is Korean abbreviated word for Chicken and Maekju (Beer) is also famous and widely found combined menu.
It is different style of fried chicken from Japanese fried chicken (Karaage), which is why many local people enjoys ChiMaek as well.
It is mostly enjoyed during the evening (dinner) time.



The last menu shown in the picture, which might be familiar to some people, is Samgyeopsal, which is a grilled dish of pork belly. 
It is also enjoyed in the evening (dinner) time, since it goes well with the Korean Alcohol, Soju. 
After eating Samgyeopsal, the best way to finish the meal is to eat Doenjang Jjigae(Korean soybean paste stew) or Naengmyeon (Cold Noodle Dish).
Wouldn't it be amazing to live close to this area?
Sakura House has affordable accommodations near Shin Okubo as shown below.
Check it out!
SAKURA HOUSE SHIN OKUBO
https://www.sakura-house.com/building/shinokubo

SAKURA HOUSE NISHIWASEDA
https://www.sakura-house.com/building/nishiwaseda

SAKURA HOUSE
Nishi-Shinjuku K-1 Bldg. 2F
7-2-6 Nishi-Shinjuku, Shinjuku-Ku Tokyo, Japan
Postal code: 160-0023
Google map
From Japan:
From outside Japan:
Mail:
Office hours:

8:50 am to 8:00 pm
We are open every day of the year.
Tokyo time:

04:42