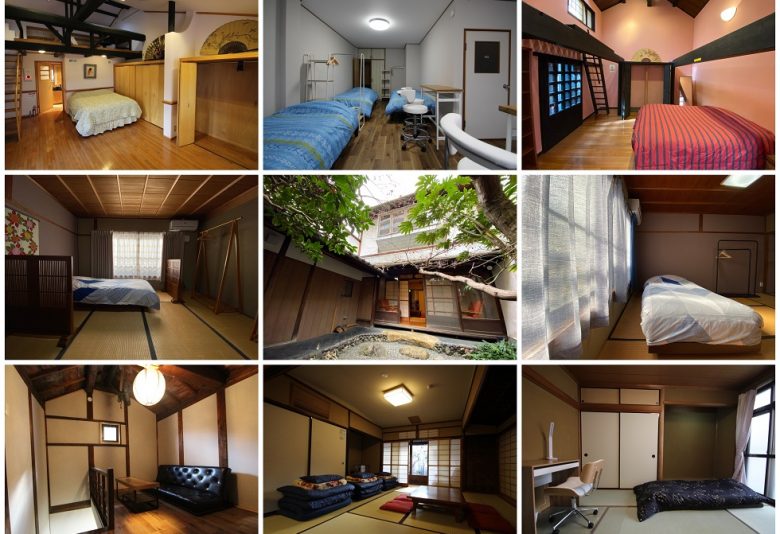 2021/08/27 (Fri)
Living in Japan
Tips when searching for accommodation in Japan
Being accepted to a study program in Japan, a Japanese company for work or as an intern, or having the great opportunity to simply travel around the country is a most rewarding experience for all foreigners in Japan. However, with the excitement that this may bring, it is easy to oversee certain important points when searching for a room in Tokyo, in Kyoto or in the beautiful peninsula of Izu.
To aid with starting your stay in Japan with the right foot, here are a few tips to consider when searching for a share house, guest house or apartment in Japan.
Purpose of visit

One of the first things to consider is one's plan and purpose of the trip. Is it to attend a study program, work, travel around the country, start a business, make connections, the options are endless. Having a clear idea of what you would like to achieve with your trip sets the base to then start analyzing all other aspects of the trip.
Budget

One of the things that most worries travelers, is "how expensive is living in Japan?", "can I afford an apartment?", "can I go out every night?", all these shall be easy to look into once you have a planned budget. This can be tricky if you shall be travelling with a Working Holiday Visa, work visa or student visa, all allowing to receive income for work in different degrees.
As a general rule, working part time offers about 1,000 yen per hour of salary, so this can be a good place to start when speculating on how much you may be able to earn while here.
In terms of accommodation, renting a place in Japan can be very expensive with rules such as paying several months in advance and having a guarantor. Fortunately this is not the case with SAKURA HOUSE. The only requirement to reserve is a 20,000 JPY deposit, which gets partially refunded when departing.

A good way to also keep your budget low is by having some cooking skills. This prevents having to constantly go to eat outside at restaurants. A good alternative that Japan has though are the convenience stores. It is easy to grab a "bento" lunch for less than 500 yen, or also make your own menu with the individual food products. At SAKURA HOUSE, all our houses and apartments have equipped kitchens, so it is not a problem to get your own home made meal ready as well. However, finding local produce on sale at the local supermarket is a great way to keep the budget even lower.


Location

The next point to not leave overlooked is the desired location of stay.
Staying in the middle of Shibuya with all its exciting nightlife and overwhelming shops can be a lot of fun, but consider the high rental rate of this area. If wanting to stay here, maybe a share house or guest house dorm may be better than an apartment, depending on ones preferences, but also moving to neighboring areas close by can offer a good alternative.
For those looking to work or study, knowing the location of the company/university/school one is attending is a great starting point. Staying close by may allow you to save money and time on commuting. Some companies do offer to pay for the commuting charges, but this is best to check with each company as rules differ.
Another alternative is to buy a bicycle, if the house/apartment staying at has a designated parking area. For example, Kyoto is perfect for commuting on bike since most of the terrain is flat all around the city. Fortunately our Kyoto houses do have a parking area. This not only helps save money but also provides for a better transportation option when sightseeing and moving around the city.
If choosing to regularly use public transportation, make sure you see what train/bus lines you may be needing during your stay. Having proximity to public transport is always a plus. You can see the nearest rail lines to each of our houses/apartments displayed in each of our buildings information,
Desired type of stay

The basic options available are Share House (private room with shared facilities), Guest House (shared bedroom  and shared facilities) or Apartment (private room with private facilities). Prices vary greatly from one type to the next with Guest House as the most economic option (¥37,000- ¥55,000), then Share House (¥56,000- 118,000) depending greatly in location and room size, and finally Apartment as the most expensive option (¥77,000 – ¥680,000) also depending greatly on size, amount of rooms in the unit and location.
While considering the type of room, it is also important to take in account if a Japanese style room with traditional tatami flooring is desired. Some of our houses also offer this option with Japanese style futon beds and some others with modern framed beds. You can let our multilingual staff know what you shall be more comfortable with and we can guide through this as well.
To know more details about our options, you can take a look at our Room Type explanation.
What to bring?

Conveniently, all properties of SAKURA HOUSE are already furnished and equipped to allow all our residents to begin their life without any major inconveniences (even WiFi is provided free of charge). It shall not be necessary to bring pots and pans, cups or cutlery, these are all already in our house/apartment units for all our residents to use freely.
Things to bring (or buy once here) are personal items. These are towels, shampoo, personal hygiene products, house slippers and the like. As mentioned before, cooking utensils are provided, but it is certainly possible to bring ones own. However, make sure they are kept away from the common areas or leave them properly labeled to avoid any misusage.
Final tips to consider
For first time visitors to Japan we always recommend spending at least a few months in a share house or guest house. Doing so allows one to make new friends with house/room mates and get some unique tips of living in Japan. Maybe the local supermarket has special sales on certain days, or there's a cheap travel tickets shop near by. Japan is well known to have small hidden shops all around the city, and the best way to know about these is by knowing of someone who has discovered them.

Also regularly mentioned by experienced travelers, is that with the great culture difference of Japan, it can be difficult to interact with locals at first. To counter this, having a group of friends that can introduce you to their acquaintances is a great way to start making your own connections. Of course, also knowing at least some basic Japanese words and phrases helps break the cultural barrier that may intimidate some people at first.
We are here to help

In the end, our multilingual staff is available all year round every day (even weekends and holidays), so you can always inquire with us for any help. We can help you find your home away from home while you mainly focus on enjoying all aspects of life in Japan.
Our main interest is to make everyone's stay in Japan a total success, whatever each individuals needs may be.
So go ahead and let us know what kind of stay you are looking for!
SAKURA HOUSE
Nishi-Shinjuku K-1 Bldg. 2F
7-2-6 Nishi-Shinjuku, Shinjuku-Ku Tokyo, Japan
Postal code: 160-0023
Google map
From Japan:
From outside Japan:
Mail:
Office hours:

8:50 am to 8:00 pm
We are open every day of the year.
Tokyo time:

04:38