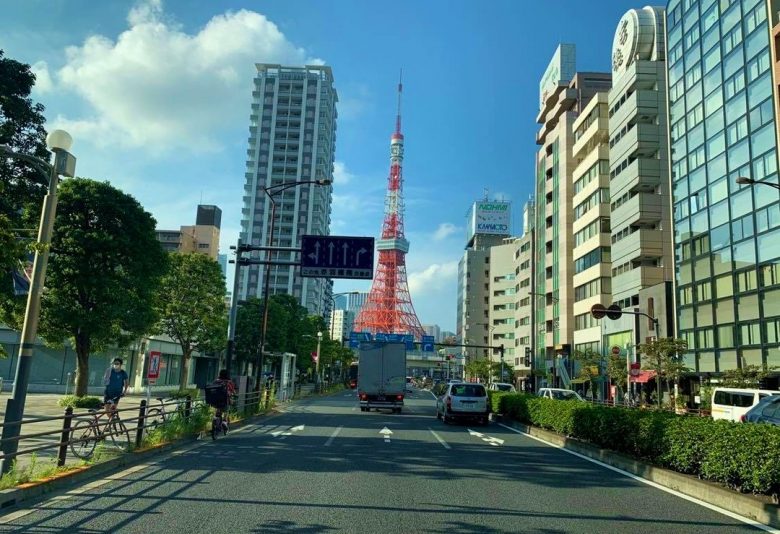 2021/09/16 (Thu)
Living in Japan
Discovering Tokyo: Tokyo Tower
A stay in Tokyo shows some of the most modern aspects of Japan. With its bright lights, interconnected railways and flashy shops, life in Tokyo during a Japanese study program, an internship at a local Japanese firm, while working in a company in Tokyo or completing your studies at a Japanese university, is a great experience to have. So to complement these beautiful aspects of living in Tokyo, we share here a bit of its history. On this occasion we talk a little bit about the history of one of the city's most iconic landmarks, the Tokyo Tower.
Completed in 1958, in just about over 1 year of construction, this 333 meter tall tower continues to receive both foreign and local tourists in search for a typical Tokyo tour picture, a great view of the city from its two observation decks, a filling meal, a sweet treat and more fun at its 5 floor shopping building at its feet known as "Foot Town". Tokyo Tower continues to be the 2nd tallest structure in Japan, with the 1st one being the more modern Tokyo Skytree with a height of 634 meters.
Besides being a main tourist attraction, it is also used as a communications antenna, the main reason for its construction after Japan's public broadcasting station, NHK, required a broadcasting tower that could reach the entire Kanto area. It now is equipped with several other transmission antennae from other Japanese media as well, providing the financial support for the maintenance of this large emblem of the city.
The construction began on June of 1957 under the direction of renown tall building designer Tachū Naitō. During this time, known as the post war boom era, Japan was looking for a symbol for its ascendancy to a growing economic country and originally planned to make the tower the highest in the world at that time, but plans failed due to financial and resource support. With this economic opening to the world, designer Naitō looked into the west for inspiration and took great inspiration in the Eiffel Tower. Curiously, Tokyo Tower is 9 meters taller than its French inspiration.
The structure used steel for its making and claims it can stand double the force of the Great Kantō earthquake of 1923 and typhoon winds of up to 220 kilometers per hour. It is estimated that about 400 workers took place in its making and 28,000 liters of paint are still used today to repaint the entire structure once every 5 years. The colors of the tower where chosen to comply with the international air safety regulations, being white and international orange. However, the tower gets beautifully illuminated at night and even displays different colors depending on events and seasons throughout the year, offering a great chance to get unique pictures with friends or loved ones and its romantic atmosphere.
5 main railway lines provide easy access to Tokyo Tower, with also bus lines available and free bicycle parking for the first 2 hours of stay. You can get more information here: https://www.tokyotower.co.jp/en/access/
But if you are interested in staying around this convenient area, make sure you check our close by share houses and private apartment units below:
SAKURA HOUSE MINATO-KU TAKANAWA – Popular property near Shinagawa Station with private apartment units and share house private bedroom units.
SAKURA HOUSE SHIBUYA EBISU APARTMENT – Luxurious apartments in Ebisu area, with great access to Shibuya, Shinjuku, Roppongi and Shinagawa.
SAKURA HOUSE SHIBUYA HIROO – One of our newest share houses, with proximity to Roppongi and great shopping options.
SAKURA HOUSE
Nishi-Shinjuku K-1 Bldg. 2F
7-2-6 Nishi-Shinjuku, Shinjuku-Ku Tokyo, Japan
Postal code: 160-0023
Google map
From Japan:
From outside Japan:
Mail:
Office hours:

8:50 am to 8:00 pm
We are open every day of the year.
Tokyo time:

22:03