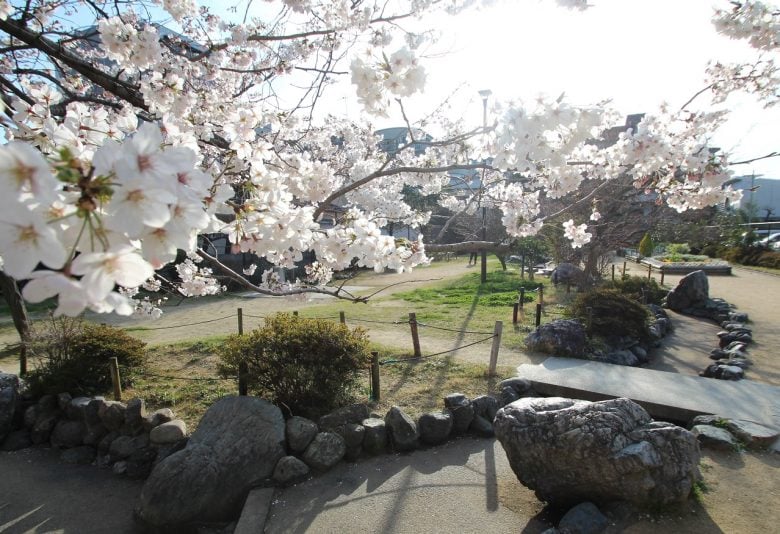 2021/08/19 (Thu)
Living in Japan
Living in Japan's traditions: the Japanese garden
There are many aspects to living in a Japanese share house. From being able to make new friendships and get special information about the neighborhood and life in Japan, to the simple elegance of a Japanese style bedroom and architecture. One that we would like to focus on here is an area in the house that usually gets overlooked when searching for accommodation in Japan, the garden.

SAKURA HOUSE KYOTO R garden
Many of our share houses, guest houses and apartments in Tokyo, Kyoto and Izu have proximity to public parks or areas in contact with nature, like the proximity to the beach at our IZU KAWAZU house in Shizuoka or the convenience of our share house/guest house YOYOGI KOEN 1 and its proximity to the large Yoyogi-koen Park. Others, however, have the beauty of having their own garden, and not just any garden, but also a traditional Japanese garden, which is our topic of today.

SAKURA HOUSE YOYOGI UEHARA MUSLIM FRIENDLY HOUSE entrance
From ancient times, contact with nature has always been a component in the Japanee lifestyle, and this is well noted in the traditional Machiya style townhouses. In this houses, the placement of the garden is usually at the center to allow for the passage of air to all rooms in the house and also provide the entrance of natural lighting. There are several types of gardens (zen gardens, tea house garden, sand gardens, etc.) with their elements and meaning changing throughout the years and its purpose.
Stones

SAKURA HOUSE KYOTO R garden
A most familiar image of a Japanese garden is that of the zen garden with its many stones placed strategically in a design that resembles mountains. Smaller pebble surround these stones with the appearance of a stream of a river or waves on a lake. In ancient times, gardens in Shinto shrines used large stones as worshipers of "kami" (gods), an image that can be seen even today with rocks decorated with "shide" (a zigzag shaped piece of paper commonly used in Shinto rituals).
Gravel was used to indicate designate a sacred ground, reason for why it may also be seen even today a small area with some small rocks at the entrance of many houses in protection and good treatment from the gods.

SAKURA HOUSE KYOTO R garden
Another elements usually portrayed in stone are islands and mountains, representing real historical locations such as Mount Horai (or Mount Penglai from the Chinee mythology) or other mythological elements such as turtles and cranes (symbols of longevity and health). In connection to these are also bridges made of either stone or wood, to direct the view of the beholder and/or allow for the access to these "islands" which in some cases may actually be large enough to contain building structures.

Kyoto Imperial Palace gardens
Stones also commonly appear, but are not restricted to, the presence of pathways. These have started to be implemented more after the introduction of the tea gardens and leisure strolling. Paths serve as a careful guidance to special viewpoints throughout the garden and can range from stone placed separately to conjoined large tones, pressed gravel or sand.
Lanterns

SAKURA HOUSE KYOTO R garden
Also traditionally made of rock, lanterns provide not only illumination and guidance while walking through the garden, but with it an aesthetic appeal. They are usually placed on special locations such a near an important part of the house/building, on islands or near the element of water.
Water

Shinsen-en garden
More commonly appearing in large gardens, it is customary to see an element of water somewhere in the garden. In large ones this can be a lake or a pond, but in smaller ones it can be a stream of water or even a well. Also in dried gardens, the element of water may be symbolized by the position of the rocks and sand.

A particularly enchanting element of lakes and ponds, is that they may also contain some "koi" carp fishes in them, adding to the harmonious atmosphere of these natural spots.

SAKURA HOUSE KYOTO ANNEX garden
Also a common feature, in connection to the lanterns, is to see a water basin nearby. This is strongly connected with the tea ceremony and its purification rituals. Nowadays it remains as a decorative element of the traditional aspects of the overall appeal of the Japanese gardens. 
Vegetation
There are many types of landscape designs when it comes to a Japanese garden, and vegetation elements provide for the richness of this. Trees, flowers, shrubs and even moss are used to enhance the characteristic of the garden and to feel the passage of time.

Hirano-jinja Shrine during spring
Everyone is quite familiar with the seasonal appeal of cherry blossoms and maple trees during the spring and autumn seasons accordingly. This alone attracts people from all over the world to Japan and particularly to Kyoto, where each temple, park and area has a particular beauty that can not be left unseen.

Nanzen-ji Temple ground's garden
Other companions of these are the bamboo, plum and pine trees, also offering a presence of their own. While flowers wrap all elements of nature highlighting the design aspect of natures beauty, the passage of time and art-like appeal.

SAKURA HOUSE KYOTO R garden's blooming season
It may be common to sometimes see, particularly during winter, tree wrapped in straw. This is done to insulate and protect the trees during the cold and snowy seasons and also to protect against bug infestations during certain times of the year.

Maruyama Park behind Yasaka-jinja Shrine
Finally, an aspect mostly intuitively perceived in larger gardens is how it merges with the surrounding buildings, mountains and roads. Traditionally this used to be the case of temples and shrines in the mountain areas, but has modernly also been adopted with the appearance of skyscrapers and large houses.

Ryoan-ji Temple's zen garden
In connection to this is the "engawa", a mostly wooden flooring placed by the garden for convenience to allow the passage to other area of the house/temple and also as a seating area to behold the garden in its entirety.
All these aspects can be seen in some of our traditional Japanese houses. Check the links below to see some of our houses with gardens:
SAKURA HOUSE SHIBUYA YOYOGI UEHARA FRIENDLY HOUSE FOR MUSLIMS
SAKURA HOUSE
Nishi-Shinjuku K-1 Bldg. 2F
7-2-6 Nishi-Shinjuku, Shinjuku-Ku Tokyo, Japan
Postal code: 160-0023
Google map
From Japan:
From outside Japan:
Mail:
Office hours:

8:50 am to 8:00 pm
We are open every day of the year.
Tokyo time:

23:14