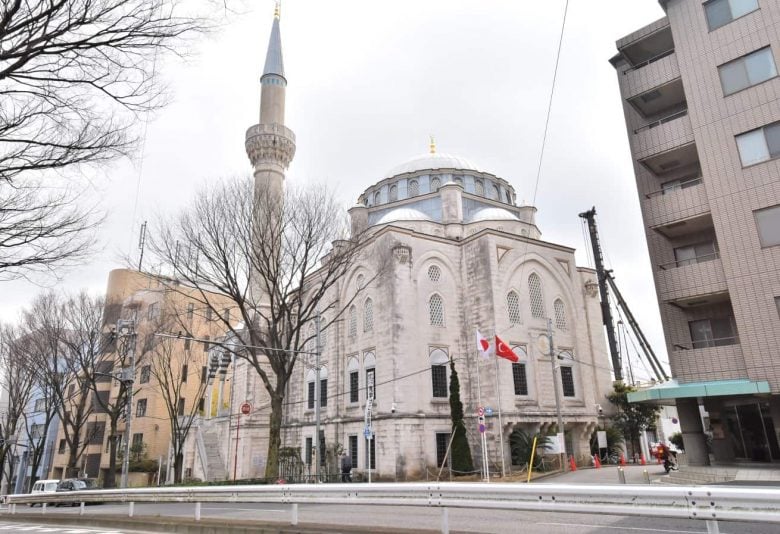 2022/02/04 (Fri)
Living in Japan
A Guide for Muslim friendly Japan
You have arrived in Japan, ready to enjoy all that it can offer. Yet you may find that there's struggle in finding places that fit with your needs. We will be showcasing a local's guide to Muslim friendly Japan in the neighborhood of YOYOGI UEHARA & TABATA. From restaurants, grocery shops and private/shared accommodation options in Tokyo. Let us help you get settled in Japan, as easy as possible!
YOYOGI UEHARA AREA:
Tokyo Camii & Turkish Culture Center

You can sight the Japan's largest Masjid at Tokyo Camii & Turkish Cultural Center. Its architecture resembles the Ottoman style mosque from the 1930s. Most of its marble are imported from Turkey. And the finishing details were made by about 70 Turkish Craftsmen. It stands proud among the Urban landscape. We sure find it's architecture an impressive landmark of YOYOGI UEHARA.






Tokyo Camii Halal Super market

If you're looking for Halal food, this sure is a place to go. Coming to Japan, you may realize that there aren't many Halal places. Many Japanese dishes are made with pork. The supermarket is open 365 days a year. They offer imported goods from a variety of countries like Turkey and Indonesia. Are you looking to whip up a nostalgic dish from back home? Be sure to check out Camii Halal Supermarket. We know how important it is to find your own comfort. Especially when travelling a far.


SAKURA HOUSE Yoyogi Uehara Friendly House

We have a long-standing history of providing Muslim friendly accommodation in Japan. Muslim travelers, Japanese language students and even long-term residents in Tokyo. One of the first share houses exclusive for people with the same beliefs. Each floor is assigned to either ladies or gentlemen.

We also have a prayer room facility inside the share house that can be used any time of the day. It is located within 5 min walking distance from the Camii Mosque.

In the back of the share house, there is a sizable garden. Our resident`s had often grown their own plants to be harvested for eating at SAKURA HOUSE. It sure is rare to have a space for an urban farming in Tokyo. Anyone with the interest in sustainability? This is a chance to experience home grown food. Do take advantage of it, when you stay over at SAKURA HOUSE Yoyogi Uehara Friendly.

*Read our blog on Urban Garden at SAKURA HOUSE.

 
SAKURA HOTEL and Café Hatagaya


The perfect place for an afternoon at a Foreigner-friendly restaurant. With English-speaking staff that serves Halal or Vegetarian food on request. We welcome you to SAKURA HOTEL and Café Hatagaya. Offering affordable delicacies from all around the world.



One of their halal dishes from Egypt is a delight. It is called Moussaka. An eggplant and Lamb tomato stew flavored with Egyptian spices. A sure way to warm up during winter days. They are open 24 Hours a day and are also on Ubereats.

*Opening hours may vary
 

TABATA AREA:

The Ostuka Mosque

The Ostuka Mosque conveniently is located about 5 minutes walking distance from the train station. At this mosque a broad variety of educational services are offered. They hold Quran classes for adults and even Arabic language classes. You can find their contribution to the local community through their Soup kitchen. Which helps the homeless & people in need around.
TABATA 2 Friendly Share House

If you prefer a more intimate share house this could the perfect fit for you. With just two rooms on each floor, the share house is Muslim-friendly and female-only. All rooms are equipped with Qibla signs that states the direction to perform the prayers. Apart from that, it is located just two train stations away from the Otsuka Mosque.

We hope you have enjoyed our guide for Muslim-friendly suggestions. For long- or short-term resident, travelers and students all around. It's always exciting to see the cultural intermix that's happening in Tokyo. We like to think that we are a part of that agent of change. Continuing to interact with the local communities for over the years, our connection and history is what makes our share houses unique. As one of the first to host a Muslim friendly accommodation in Japan, we welcome you to SAKURA HOUSE.

Come by our SAKURA HOUSE Shinjuku Office Lounge for a chat! We are sure to make you feel at home. We hope to see you all soon.

SAKURA HOUSE.
SAKURA HOUSE
Nishi-Shinjuku K-1 Bldg. 2F
7-2-6 Nishi-Shinjuku, Shinjuku-Ku Tokyo, Japan
Postal code: 160-0023
Google map
From Japan:
From outside Japan:
Mail:
Office hours:

8:50 am to 8:00 pm
We are open every day of the year.
Tokyo time:

23:06