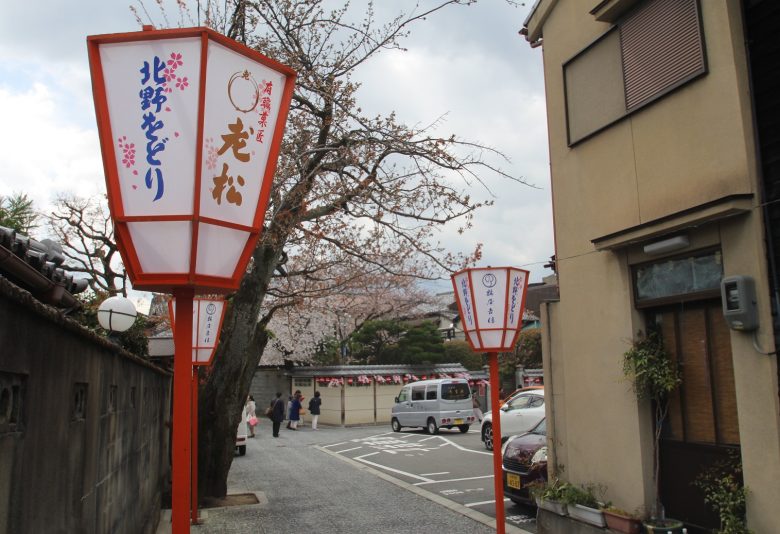 2021/08/12 (Thu)
Living in Japan
Discovering Kyoto: Kamishichiken
A stay in Kyoto is in many ways a travel to the past. The city takes its origins seriously, and you can clearly see this all around the city, including our Kyoto share house, guest house and semi-apartment units 
Life in Kyoto as a Japanese student, university scholar, intern, foreign worker or even just as a traveler is a most rewarding experience, as we have mentioned in our previous posts. Whether it is alone, staying as a group with firends or colleagues, or enjoying the Kyoto life with family, there is something for everyone. On this occasion, we present a unique area within walking distance from Sakura House Kyoto, that has been mostly left intact. We are talking about "Kamishichiken", the oldest "hanamachi" (geisha district) in Kyoto City.

Kamishichiken in Japanese means "the seven upper houses", refering to the seven tea houses built from the remains of Kitanotenmangu Shrine, right next to this area, during the Muromachi era (1333–1573). Nowadays there are 11 of these teahouses, offering a chance to catch sight of the historical "geisha" entertainment performers.
Located further away from the central business area (in contrast with Gion, the most renown "hanamachi"), Kamishichiken offers a quieter atmosphere to enjoy what once was a very busy section of the city. Besides the teashops, many shops have also appeared throughout the years, some of them continuing their business for several decades, and some more modern. The main street runs from Imadegawa Dori diagonally to the north-east entrance of Kitanotenmangu Shrine. It is a typical old Kyoto like wide street filled with "machiya" style townhouses, most of them turned into shops and restaurants, but nonetheless enchanting and photogenic.
You can quickly access this area in about 10 minutes walk from SAKURA HOUSE KYOTO houses:
Three main events take place yearly around Kamishichiken, the first one being the "Baikasai" (梅花際) on February 25th, when the local "maiko" (apprentice geisha) and "geiko" (accomplished geisha) gather at the plum gardens of Kitanotenmangu Shrine and offer green tea and seasonal sweets to visitors.

The second one, taking place on April, is the "Kitano Odori". This is a traditional dance performance with decades of history. It is performed at the Kamishichiken Kabukai theatre by both maiko and geiko, as well as musical performes. Each geisha district has it's own dance on different dates, such as the Kamogawa Odori in the are of Pontocho during May, and Gion Odori in the Gion area during November.

The third and last event is more related to the Kitanotenmangu Shrine but with connection to Kamishichiken. This is the "Zuiki Matsuri".
This festival is said to date back more than a thousand years to around mid 900s. It consists of a large procession of several participants traditionally dressed, an "omikoshi" (portable shrine) decorated with several vegetables and foods and even an ox-drawn cart. The procession starts and ends at Kitanotenmangu Shrine with passage all around the neighboring streets, with Kamishichiken's main street as its final route.
The origin of this festival is said to be in gratitude for a bountiful harvest, therefore the decorations of the omikoshi.
On its passage through Kamishichiken, it is possible to also get a glance of the local geisha, who come out to the streets to salute the festival participants and enjoy the atmosphere with the local neighbors and visitors.

The traditions that this part of the city continues to keep alive is certainly worth experiencing, and what better way to do it than in company of friends, housemates or family.


SAKURA HOUSE
Nishi-Shinjuku K-1 Bldg. 2F
7-2-6 Nishi-Shinjuku, Shinjuku-Ku Tokyo, Japan
Postal code: 160-0023
Google map
From Japan:
From outside Japan:
Mail:
Office hours:

8:50 am to 8:00 pm
We are open every day of the year.
Tokyo time:

23:02