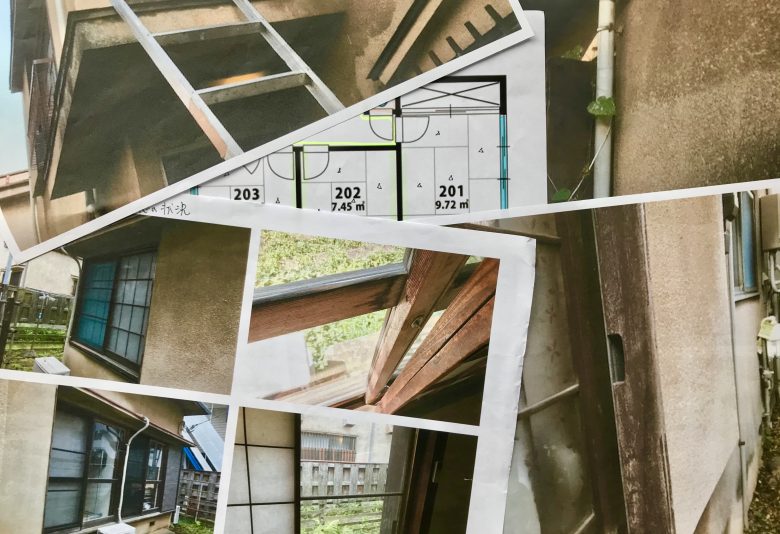 2020/08/24 (Mon)
Living in Japan
STORYTIME – REMODELING OF HIGASHI IKEBUKURO SHARE HOUSE Vol.1
Already 10 years have passed since SAKURA HOUSE HIGASHI IKEBUKURO has opened its doors inviting new residents from all over the world to stay. In order for us to improve the overall living environment quality, make a stay for the residents that are currently residing, and for all residents that will come to stay with us in the future even more comfortable, we settled our plan for remodeling. 

The wooden structure of the building itself is still intact and actively in use, however, with time passing by, parts of the house like the roof and its outer wall, the interior, and the parts that have been constantly exposed to wind and rain and other worn out parts, naturally increased. This is why we started to consider our resident's needs more intensively and made us longing for the improvement of the current situation. 
As we went through all the points considering for a construction renewal, the question of whether to exchange the wooden framed windows that have been there from the beginning, from the time the building has been newly constructed, immediately popped up. Usually under normal circumstances, whenever there is remodeling ongoing, keeping that kind of windows would be out of the question and they would be removed immediately and replaced by aluminum sashes because they can ensure soundproofing and air tightness and are easy to install. Without any hesitation, our Team from Sakura House instead decided to leave all wooden windows in the original framework and think about how to create a better atmosphere while improving its functionality. You will probably wonder why… 


Sakura House Higashi Ikebukuro is a wooden made house in which a typical Japanese family used to live. The building features classical characteristics of Japanese residential architecture, like tatami flooring and shoji, Japanese sliding doors that are used to divide windows or rooms, as well as features like shutters that have become rusty with time and the eaves of the house that are overlooking the garden spreading out in the front of the windows. With time passing by, it became not merely a wooden shell but a framework of valuable historic remains and a remembrance of typical traditional Japanese lifestyle. How people used to live back in the days becomes vividly apparent, and its character is still manifested in the original structures of the house.

We can see it as a space that functions as shelter and protects all people residing in it. A place where you can escape the summer heat under the houses eaves shadows, a place where you can close down the shutters feeling safe when dark clouds, bringing heavy rainfalls along, arise.
Because Japan's landscape is mostly covered with mountains, which again are covered by forests, the country always had strong bonds to wood as a material, which is why it remained the main material used for building houses for a long time. Whenever you touch the surface of wood, a sensation of warmth comes up. It fills the rooms with its distinct aromatic scent while functioning as a tool for air purification. Those and other striking qualities are widely believed to have a positive impact on both, mental and physical well being.


In the past, at Sakura House, we used to replace wooden framed windows with sashes made of aluminum ourselves. So, what was it that eventually changed our way of thinking?
It was an episode directly related to one of our Sakura House residents, who felt deeply hurt after her being told about the replacement plans. She asked us to let her keep the wooden windows already installed. This was the trigger that led to the redirection of our mindset leaning towards a sustainable approach rather than to destruction of what has been valued for so many years before while at the same time being an embodiment of traditional Japanese culture.
Now, the last riddle to solve was HOW do you keep this wooden glass window and improve the functionality of the room at the same time. 

We came up with an idea and will perform on-site verification together with a construction company. The keyword is Amado, a protective shutter that will be attached in front of the wooden windows. 
We will show you the whole process, so for everyone that is interested in this story stay tuned for updates. To be continued… 
SAKURA HOUSE MAINTENANCE TEAM
SAKURA HOUSE
Nishi-Shinjuku K-1 Bldg. 2F
7-2-6 Nishi-Shinjuku, Shinjuku-Ku Tokyo, Japan
Postal code: 160-0023
Google map
From Japan:
From outside Japan:
Mail:
Office hours:

8:50 am to 8:00 pm
We are open every day of the year.
Tokyo time:

23:31