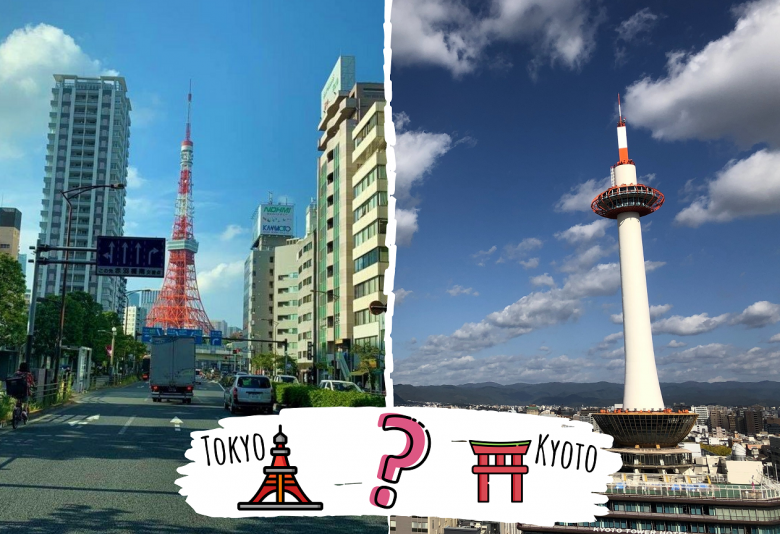 2021/09/03 (Fri)
Living in Japan
Stay in Tokyo or stay in Kyoto
Two of the most visited cities by foreign students, travelers, work related visitors and interns coming to Japan are Tokyo and Kyoto, but what is the difference between these two cities?
Besides their obvious difference in size (Tokyo city has 2,194 km² while Kyoto city has 827.8 km²) and population (13.1 million inhabitants for Tokyo, while just 1.4 million for Kyoto) there are other major differences to consider when deciding where to stay in Japan.
We take a quick look at some of the factors that may help you decide which city may adapt best for the plans of your next trip to Japan.
Houses

With share house, guest house and apartment units in both areas, one of the most visible difference when checking SAKURA HOUSE's monthly rooms is the difference of a modern design house in Tokyo and a traditional "Machiya" house in Kyoto.
Although renovated and equipped with modern elements of comfort and convenience, our Kyoto house units have kept their main structure and design intact, allowing residents to feel the characteristic aspect of life in a traditional Japanese style house. These type of houses are also in Tokyo, but with the great advancement of modernization, they are far less visible nowadays in the city. Another outstanding aspect is that Kyoto city has a ban on building heights, which doesn't allow the presence of skyscrapers or other tall buildings. Actually, the tallest building structure within the city is the Kyoto Tower, just outside Kyoto Station.
Visitors staying in both cities also mention the difference in room size, with Kyoto usually being larger than those in Tokyo. This is not usually the case, but what stands out about this is that the price for a small room in Tokyo may be the same price for a regular sized room in Kyoto. This makes the old capital of Japan seem a little cheaper than the current capital city.
Streets
The characteristic grid pattern of the streets of Kyoto stand out in convenience to the winding streets of Tokyo.

In comparison, Kyoto allows for a better sense of direction, which makes it much easier to travel around the city, particularly for first time visitors.
Tokyo streets are regularly compared to a bowl of noodles, where the winding streets confuse even the experienced postman. It is said that policemen in Tokyo spend most of their time having to give directions to both travelers and locals alike. Of course, with the update to smartphones in the recent decades, having a map right at your fingertips has solved most of this issue for foreign travelers, but having a basic knowledge of how to ask for directions in Japanese is a great help, for both cities.
Transportation

A quick look at the above rail map of Tokyo shows about 60 different rail lines running all around the city. This does not include all the buses that are also in service (apparently well over 130 different bus lines).

In comparison, the above map shows just 10 rail lines in Kyoto, including the Shinkansen (bullet train), mostly used to travel to neighboring cities and other areas of Japan. If using public transport to get around the city, buses shall be a much more flexible option to find a direct route to your desired destination.
However, another great great difference regarding transport is that bicycles in Kyoto are more regularly used than in Tokyo (comparing on the population amount). To add to the winding streets of Tokyo, there seem to be more slopes and uneven surfaces as well.
Having a flatter and more even surface proportion, allows Kyoto citizens to enjoy the cheap and healthy form of personal transportation that a bicycle allows. 
In summary, Tokyo allows for better public transport options with fewer walking distances, while Kyoto in convenient for having your own bike to ride around freely and regularly shorter distances to enjoy a walk.
Parks and recreation

Being a major metropolis, it is common sense to think that Tokyo has a less amount of green spots and parks, and it is so if we compare the surface size of each.
Kyoto, being surrounded by mountains and with several temples and shrines with their own designated green areas, the city gives a sense of always being in contact with nature. It is no uncommon scene, for example, to be walking around the main business area and seeing the great mountains of "higashiyama".
Recreation wise, both cities are well known for having hidden gems all around town. Tokyo though, takes advantage of its great land space and skyscraping buildings to offer a great variety of restaurants, izakaya bars and creative shops anywhere. A simple visit to Akihabara shall overwhelm and entertain any visitor for several days. The nightlife in Tokyo is also much more livelier with its several night clubs and live houses.

Kyoto, in comparison, has more limited options in this sense, but being a strong tourist destination, shops are regularly updating their products and services. Some shops get changed throughout the years, making it somewhat a different city if left unvisited for a long time.
That being said, there are also several shops with years (even centuries) of continued business, making it a familiar and heartwarming experience to revisit.
In terms of nightlife, it is certainly possible to visit the local izakaya bar in the neighborhood, but for large nightclubs and live houses, the place to go to shall be the main business area in downtown Kyoto.
Finally Kyoto does have several World Cultural Heritage Sites, and its small surface (in comparison to Tokyo) allows them to be visited easily during ones stay.
People

Even Japanese people themselves tend to point out the generosity and hospitality of people in Kyoto. It is a regular occurrence to ask directions and have your guide walk with you toward your destination rather than just guide you verbally. This may be so due to their ongoing traditional beliefs but also because locals are not usually knowledgeable on foreign languages. On the other side, this also appears to have given locals a strong character, shown if not taking their traditions seriously and respectfully.
Tokyo, welcomes a great number of foreign visitors and locals from other prefectures every year, which makes it a very diversified population. This is a great way to get know about different cultures, not only from overseas but also from within Japan. This diversification also allows Tokyo locals to be more in contact with foreign languages, giving a better chance of communication with visitors from overseas.
As with Kyoto, the so called "Edokko" (people born and raised in Tokyo) tend to have a stronger character as they see the innate need to keep their culture alive as well. 
Everyday life
Experienced travelers regularly mention that products in Kyoto tend to be cheaper than in Tokyo. This of course depends on the type of shop and product being bought, but in general terms, it seems to be so. For example, a typical meal at an inexpensive restaurant may cost about 1,000 yen in Tokyo while just 825 yen in Kyoto. Grocery prices also seem to be 16.29% higher in Tokyo. This being said though, if planning to work in Japan during your stay, the salary Tokyo does tend to be higher.

Regular use of public transportation also takes a great part of everyday expenses. As mentioned previously, Kyoto allows a bit more options in terms of being transport independent and distances may be shorter. The large area of Tokyo and intricate rail system is certainly convenient but may take a larger bite at ones wallet.
Climate

Seasons seem to be more notorious in Kyoto, not only for its strong connection to nature, but because of its geography as well. Being surrounded by mountains, this appears to make an enclosing effect, having winters feel colder than in Tokyo while summers are also felt hotter and more humid.
Another contributing factor of this is that Kyoto is slightly higher above see level than Tokyo (Kyoto is 50-60 meters above sea-level while Tokyo sits at about 40 meters).
Final notes
Over all, for a "modern Japan" type of stay, Tokyo is the place to go to. The overwhelming amount of options in the city shall have something for anybody. Being the large and popular metropolis it is, dealing with crowds is something to be aware of beforehand.
For a more "laid back" type of stay, the compact and traditional profile of Kyoto shall provide for a simpler kind of lifestyle and a great everyday tourism type of feeling.
Although Kyoto may not be as crowded as Tokyo, this may not be the case during busy tourist seasons such as the cherry blossoms during spring, the Gion Matsuri month in July and the Autumn Leaves season in late November.
If you are thinking on coming to Japan to study, work or get to know the city, either for a long or short stay term, and can't decide where to stay, feel free to contact us with what you want to experience or what type of stay you would like to have. Our knowledgeable staff can help you find the best place for you to stay at in both cities.
SAKURA HOUSE
Nishi-Shinjuku K-1 Bldg. 2F
7-2-6 Nishi-Shinjuku, Shinjuku-Ku Tokyo, Japan
Postal code: 160-0023
Google map
From Japan:
From outside Japan:
Mail:
Office hours:

8:50 am to 8:00 pm
We are open every day of the year.
Tokyo time:

20:17