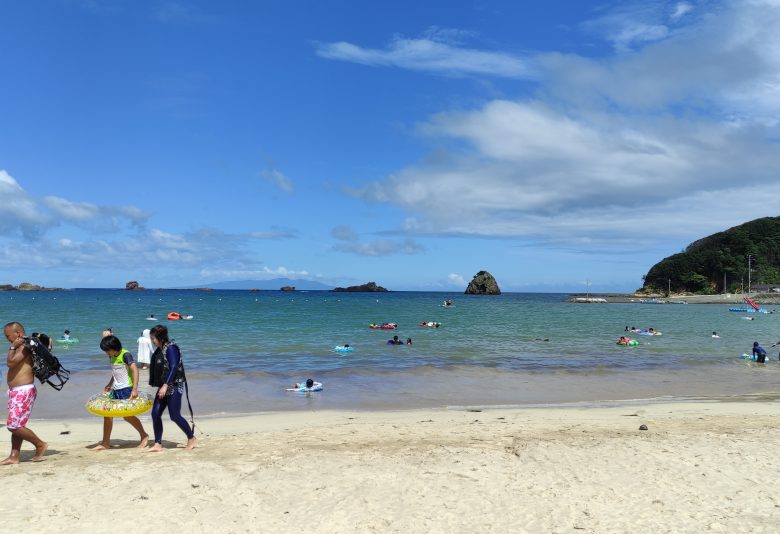 2021/08/14 (Sat)
Living in Japan
Discovering Izu Peninsula: Kawazu (河津町)
Kawazu is located in the East Part of Izu Peninsula, Shizuoka Prefecture. Kawazu is well known for Sakura,
since it blooms earlier than other places. It takes approximately 3 hours from Tokyo Station.
You can try to take the limited express train called "Odoriko(踊り子))".
It gives you a special view outside on the way to Izu.
As you can see on the photos and video, it will be the best if the weather is good.

This video was taken from Odoriko train to Izu Peninsula.
As you can see form the video that on the way to Izu Peninsula,
you will be able to see a beautiful view of the beach.
The area is also famous for Onsen, so if you like looking at the beach and doing Onsen,
it will be one of the places that is recommended to travel to.
There is a place called Kawazu Nanadaru, meaning The Seven Waterfalls of Kawazu,
which gives a beautiful view of the seven falls.


Near Kawazu station, you can also find SAKURA HOUSE IZU-KAWAZU, which is only about 8 minutes by walk from the station.
During this hot season, it will be one place you would like to visit, where you can enjoy both Onsen and the beach at the same time.


SAKURA HOUSE IZU-KAWAZU
https://www.sakura-house.com/building/izu-kawazu
SAKURA HOUSE
Nishi-Shinjuku K-1 Bldg. 2F
7-2-6 Nishi-Shinjuku, Shinjuku-Ku Tokyo, Japan
Postal code: 160-0023
Google map
From Japan:
From outside Japan:
Mail:
Office hours:

8:50 am to 8:00 pm
We are open every day of the year.
Tokyo time:

19:51(We are open now!)