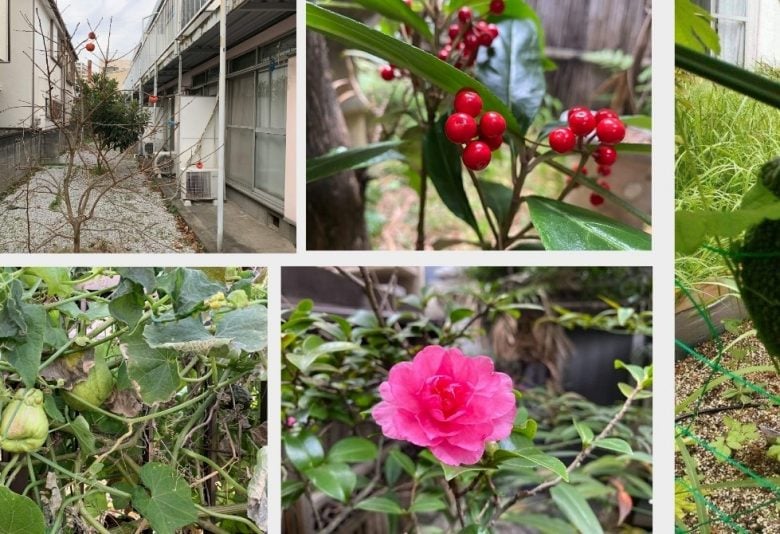 2020/12/22 (Tue)
Staff Blog
A gardener's heaven – Urban gardening at Sakura House
Hobby farmers or herb enthusiasts who have dreamt of owning a garden but never imagined to be able to create their own green oasis in the heart of Tokyo will surely fall in love with this project. The creation of green spaces and urban gardening projects are on the rise throughout Tokyo but still few and far between.
SAKURA HOUSE has been focusing on living with nature from the start in 1992 and growing vegetables and fruits in the heart of the city. We are striving to provide a sustainable living environment based on an ecological-social symbiosis with plants and human beings and through a natural self-supply, we want to nourish a From-Nature-On-Your-Plate-based lifestyle.
Our residents are always welcomed to enjoy seasonal fruits and vegetables grown in the garden. Bringing international exchange to the next level by giving our residents the opportunity to enjoy not only veggies and fruits originating in Japan but from a diversity of cultural backgrounds.
We believe that building our own organic self-sustaining ecosystem is the ultimate key to peaceful living in perfect harmony with nature and poses the ideal possibility to detox your body and mind.
Check out some of our green projects:
CHAYOTE AT SAKURA HOUSE KUNITACHI
In case you are wondering, Chayote is a popular ingredient widely used in Mexican and Latin American cuisine. Don't let the outer appearance fool you. This edible plant might look like a let's say interestingly shaped pear but its flavor is subtle and could be described as a fusion between a mildly sweet apple and a cucumber. It can be used for a broad variety of mainly savory dishes, cooked or raw to add some crunch to your salad.  

We joined our resident while harvesting his first batch of fully grown "Hayatouri (Chayote)" from our garden of SAKURA HOUSE Kunitachi House.

He rinsed and diced the Hayatouri.

We will never forget the deliciousness of sautéed Hayatouri we tasted for the first time at that very moment.


Another resident who grew up in Mexico shared some memories with us that Chayote in Mexico is slightly sweetish but the Hayatouri they had at Kunitachi House was incredibly sweet and full of flavor!

PERSIMMONS AT SAKURA HOUSE ALOE HEIGHTS 
Persimmons, 柿 Kaki in Japanese, is the Japanese classic fruit of autumn. We grow them at SAKURA HOUSE Itabashi-ku Hasune ALOE Heights.

CUCUMBERS AND TOMATOES AT SHIBUYA SENDAGAYA 
Well, we don't need to explain too much about the classics among the veggies. Cucumbers and tomatoes will be ready to harvest in Summer at
SAKURA HOUSE Shibuya Sendagaya
GOYA, EGGPLANTS, GREEN PEPPER AT SAKURA HOUSE YOYOGI UEHARA MUSLIM HOUSE
We are also growing Goya, Japanese bitter gourd, opinions about this veggie may polarize but let's give it a try and you might fall in love. Just as a backup plan we also grow eggplants and green pepper at the garden of

SAKURA HOUSE Yoyogi Uehara Friendly House for Muslims
GORGEOUS FLOWERS AND TREES AT SAKURA HOUSE KYOTO ANNEX 

You can even enjoy the uniqueness of a traditional style Japanese garden enriched by a variety of flowers and trees.



SAKURA HOUSE Kyoto L, R and ANNEX
Let's make Tokyo and Kyoto a little greener. Start growing and eating your own veggies NOW at Sakura House!
SAKURA HOUSE
Nishi-Shinjuku K-1 Bldg. 2F
7-2-6 Nishi-Shinjuku, Shinjuku-Ku Tokyo, Japan
Postal code: 160-0023
Google map
From Japan:
From outside Japan:
Mail:
Office hours:

8:50 am to 8:00 pm
We are open every day of the year.
Tokyo time:

01:41