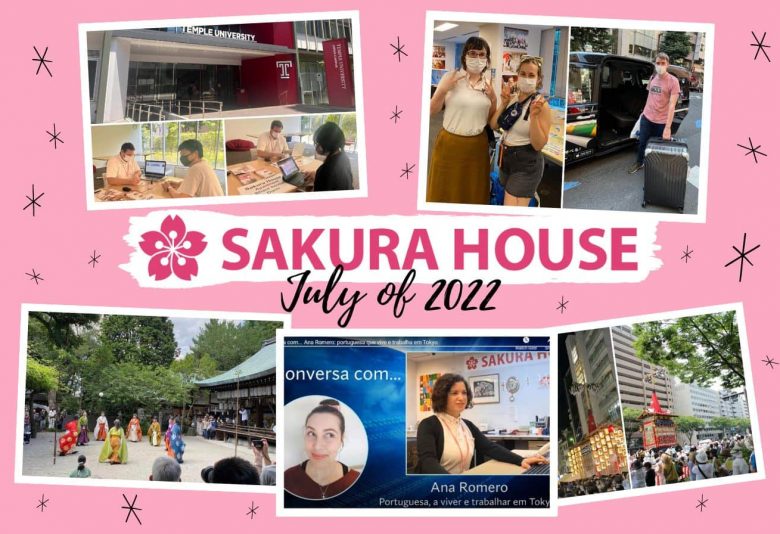 2022/08/01 (Mon)
Staff Blog
SAKURA HOUSE during July of 2022
July has proven to be the start of the hottest season of the year in Japan. It is certainly comfortable to stay indoors in ones Share House, dormitory Guest House or private Apartment, but this year many events also began taking place after a period of absence. These invited our foreign residents at SAKURA HOUSE to enjoy the beauty of the historical Japanese culture.
Also, as we continued to answer inquiries from foreign language students, university students, research academics, interns foreign teachers, families and working professionals planning their stay in Tokyo or Kyoto, we look back and continue to feel blessed by all of the people that continue giving us the chance to help them with their accommodation plans in Japan.
For all of you to stay updated with what continues to be going on at SAKURA HOUSE, we put together this simple post as a summary of what has been going on during this past month.

Temple University Housing Fare

This month, we were invited to participate at the Housing Fare offered at the prestigious Japan Campus of Temple University.
We spent 2 amazing days there meeting a great variety of students with different prospects and plans during their time in Japan. It was a pleasure meeting them all and having the chance to assist them on finding a most suitable accommodation option for their stay.

The Japan & Portugal Cultural and Pedagogical Project

Our Portuguese staff was invited to do a interview with Inês Carvalho Matos at The Japan & Portugal Cultural and Pedagogical Project.
They are a non-profit organization dedicated to celebrating 470 years of the relationship between Portugal and Japan. Their mission is to help the Japanese get to know more about Portugal and to also help the Portuguese get to know more about Japan. Their focus is on education, especially to subjects relating to culture and heritage content.
Inês Carvalho Matos is an art and cultural heritage historian, writer, artist, teacher, guide-interpreter and cultural consultant. It was a delight to have a conversation with her about our culture differences and similarities.
If you're interested in their mission, check out their website below:
https://umlongoveraonojapao.com/
To any of our portuguese audience, olá e sejam bem vindos à Sakura House!

Gion Matsuri 2022

One of the biggest highlights of July in all of Japan is the historical Gion Matsuri taking place in Kyoto. The main parade takes place around the middle of the month, but the entire month displays the liveliness and beauty of this historical festival.
For this year, we took a look at the "Yoiyama" preparations the night before the large parade. You can take a look at it here.

Kemari, Heian style football

Another local event that took place this year, and one that is not usually known very much, is the Kemari ball play. This month we could experience it at Shiramine Jingu Shrine near our Kyoto Machiya Houses & Share Houses.
This events consists of a recreation of the popular athletic game common of the nobility during the Heian Period. Participants work together trying to keep the ball in the air by using any body part other than the arms and hands.
It was quite interesting and fun at the same time.
You can see more of these type of events on our social media platforms.
Facebook  |  Instagram (Tokyo)  |  Instagram (Kyoto)  |  Twitter

New faces from many walks of life

Crossing over the rainy season and enduring the hot sunny days, our staff continued to work every day to assist foreign travelers of all backgrounds find their home in Tokyo and Kyoto.
Many were in search of a new accommodation while being already in Japan, while others came directly from overseas to finally pursue their much awaited study/work goals.
It is always a pleasure to hear about their stories and to be allowed to be part of such an unforgettable experience in their lives.
If you are also planning your stay in Tokyo or Kyoto in the future, feel free to get in touch with our multilingual staff for a personalized service. It shall be our pleasure to assist you on all the arrangements of your accommodation search.
SAKURA HOUSE
Nishi-Shinjuku K-1 Bldg. 2F
7-2-6 Nishi-Shinjuku, Shinjuku-Ku Tokyo, Japan
Postal code: 160-0023
Google map
From Japan:
From outside Japan:
Mail:
Office hours:

8:50 am to 8:00 pm
We are open every day of the year.
Tokyo time:

09:57(We are open now!)