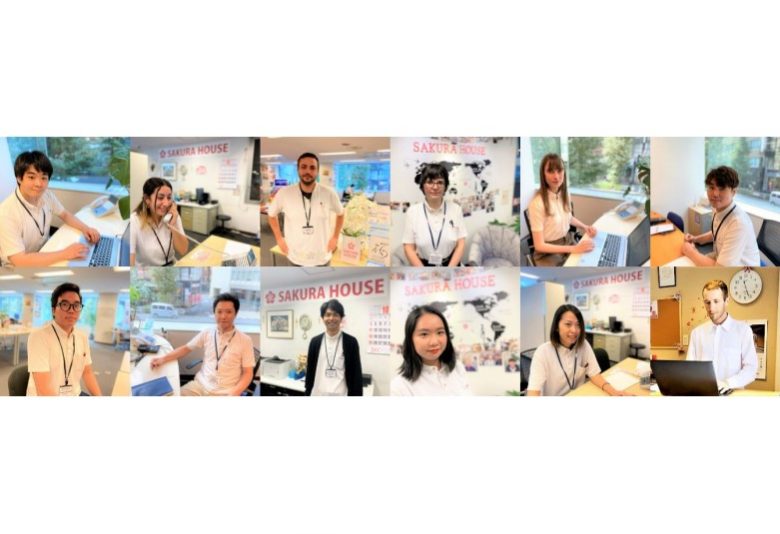 2020/10/12 (Mon)
Staff Blog
Providing SAKURA HOUSE and SAKURA HOTEL websites in multiple languages
For guests coming from all over the world, the SAKURA HOUSE and SAKURA HOTEL websites are designed to be available in multiple languages.
When creating the pages, the Web Director will discuss the content with the staff and prepare content that matches the season and current needs.
Once created, the multilingual pages are generated through automated machine translation by our multilingualization service, WOVN, and then reviewed and revised by our international staff in their respective languages to ensure that they are read in their native language and are easy to understand and communicate.
In the hospitality business like the hotel, share house, and guesthouse industry, we believe that not only technology, but also people-to-people connections, consideration, and hospitality are very important and essential.
The multilingualization of a website focuses on cultural aspects, global manners and interests, food, clothing and shelter, to communicate in a way that is easy to understand in the native language, along with multilingual SEO, global marketing, evolving mobile support and an clear-cut UI to improve usability.
In this issue, we would like to introduce you to our international staff, who not only translate, but also answer phones and emails, communicate with guests in the lounge and at SAKURA HOUSE residences and SAKURA HOTELs, and provide assistance in multiple languages.

FRENCH TEAM:
Fetine & Tristan from France

"For French translation, we always need to be careful with the accent marks and the length of the sentences."

CHINESE & TAIWANESE TEAM:
Yo & Yin from Taiwan

"There are many unique differences between Traditional Chinese and Simplified one. Not just only the way characters look, but also the terms and meanings of them."  

KOREAN TEAM:
Kim & Park from Korea

"Not just only Google, we also need to focus more on Korea's leading portals; Naver and Daum when it comes to being popular in Korean community."

GERMAN TEAM:
Vanessa from Germany & Lea from Austria

"We need to understand the context fully and translate well in German so that everyone can read easily."

SPANISH TEAM:
Goni from Spain

"When translating, I always keep in my mind that the quality and speed is quite important. I would like to make the Spanish pages available to everyone as soon as possible."

JAPANESE TEAM:
Kobayashi, Chatani & Yokomichi from Japan

"The translation from English to Japanese is somewhat tricky. Since the accuracy of the machine translation (from ENG to JPN) is not high, we are trying out best to produce high-quality translations carefully."
Working with SAKURA HOUSE's multilingual international staff, make you feel as if you are traveling the world every day.
Hearing conversations in Japanese and English, the accents of French, Chinese, and Korean, and the sounds of German and Spanish, combined with happy gestures and facial expressions, you begin to understand the nuances of what people are saying and how they are trying to communicate. At SAKURA HOUSE and SAKURA HOTEL, we are able to greet our guests arriving from the airport or meeting at the residence in various languages and teach each other the meaning of frequently used phrases.
Both Japanese and foreigners can realize that there are many different characters, conversations and customs in the lives of people from all over the world, and even at SAKURA EVENTS, where guests from all over the world participate, they can experience new discoveries and impressions that Japanese people do not realize.

SAKURA HOUSE
Nishi-Shinjuku K-1 Bldg. 2F
7-2-6 Nishi-Shinjuku, Shinjuku-Ku Tokyo, Japan
Postal code: 160-0023
Google map
From Japan:
From outside Japan:
Mail:
Office hours:

8:50 am to 8:00 pm
We are open every day of the year.
Tokyo time:

04:43