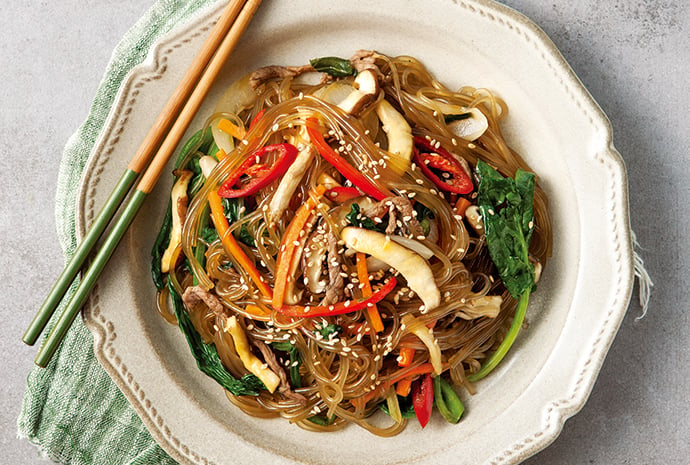 2020/11/06 (Fri)
Staff Blog
[Korean Night Report] 5th of Nov, 2020 / Recipe of Japchae, Bibim-mandoo
On Thursday, November 5th, 2020, as always,
Korean Night was held at SAKURA HOSTEL Asakusa.
We were practice Korean with people who love Korea and we made delicious
Japchae (Vegetable with sweet potato noodle) and Bibim mandoo (Dumpling with Spicy Salad).

While shyly practicing pronunciation in Korean, we introduced ourselves.
The people who participate have different reasons.

Laura: My beloved boyfriend is Korean!!
Mami san: She likes Korean indie bands, so she has been to Korea more than 10 times!!
Alan who has been practicing Taekwondo for more than 10 years.
There are many friends who are interested in Korea.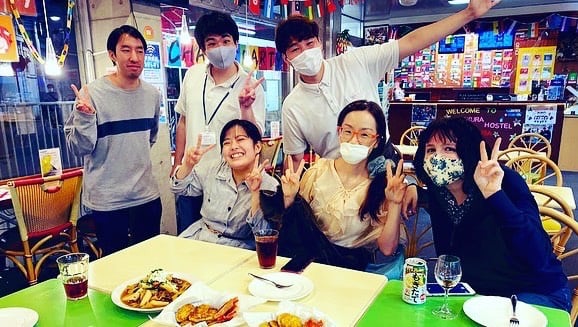 Sakura Event Korean Night is held every Thursday at Sakura Hostel Asakusa.
Korean Night is hosted by Korean staff of SAKURA HOUSE.
On the 12th of next week, we have a time to make fresh kimchi (겉절이) yourself.

And on Thursday the 19th, we will be holding a K-pop Karaoke Night.
Enjoy Korean songs you like while eating snacks at a Korean karaoke room.

We will prepare good snacks and foods like Local Karaoke.
** Recipe of Japchae **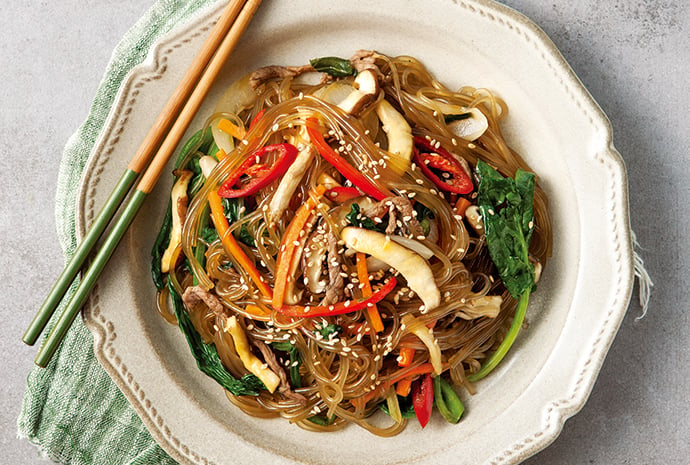 DIRECTIONS
1. Marinate beef: In a medium bowl, whisk together all ingredients except for sirloin until combined. Add sirloin and toss to coat. Set aside.
2. Cook the vegetable
mushy, stirring occasionally, 5 to 6 minutes. Drain.
les: In a medium bowl, whisk together soy sauce, sesame oil, gochujang, garlic, and a few grinds of black pepper.
Bring a large pot of salted water to a boil. Add mushrooms and blanch for 2 minutes. Remove with a slotted spoon, pat dry with paper towels.
3. To the pot of boiling  water, add spinach and blanch for 15 seconds. Remove with tongs to a strainer and rinse under cold water to stop cooking. 
With your hands, squeeze out excess water and add to bowl to combine.
4. Cook remaining vegetables: Return skillet to medium-high heat and heat oil. Add red onion, carrot, green onion, and a pinch of salt.
Cook until just beginning to soften, about 4 minutes. Let cool slightly, then transfer to bowl to combine.
5. Cook beef: Return skillet to medium-high heat and add marinated beef. Cook until meat is tender, stirring occasionally, 5 minutes. Set aside.
6. Bring pot of water back to a boil. Add noodles and cook until soft and chewy but not mushy. Drain.
7. In a large bowl, toss noodles with sesame oil, honey, and soy sauce. Let cool slightly, then add in all vegetables, sliced eggs, and beef, tossing gently to combine.
SAKURA HOUSE
Nishi-Shinjuku K-1 Bldg. 2F
7-2-6 Nishi-Shinjuku, Shinjuku-Ku Tokyo, Japan
Postal code: 160-0023
Google map
From Japan:
From outside Japan:
Mail:
Office hours:

8:50 am to 8:00 pm
We are open every day of the year.
Tokyo time:

20:59