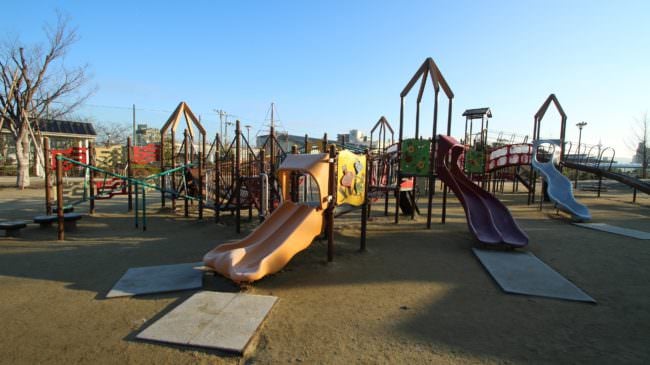 2019/10/04 (Fri)
Staff Blog
Kyoto with Kids
When travelling with family, it can be difficult to find a place large enough to let the kids move around and also fit everyone comfortably. Ina country like Japan, known for its narrow streets and one room apartments, this certainly is the case.

Nonetheless, particularly in Kyoto, there is one place that can certainly meet your needs, whether they be finding a place spacious enough, comfortable enough for a large group, or practically located to not waste much time getting places. Fortunately, our "machiya" house of Sakura House Kyoto Imadegawa meets all these requirements while keeping you in the historical ambiance that characterizes this culturally rich city.

That being said, when in Kyoto, a big part of the fun also takes place in discovering the city and all its little corners. Doing so with kids may be difficult, but it doesn't have to be so. This city has attractions for everybody and families are no exception. Here are some tips and locations that might be of interest when visiting Kyoto with kids.


Fun in nature

The first thing that one may notice are the great number of parks around the city, many of which include some games for kids to enjoy and meet with their neighborhood friends. The ones closest to Sakura House Kyoto Imadegawa are the Tachibana Park, just about 200 meters away, and Sakurai Park at about the same distance. This last one is a more relaxing option since it has a small river with some benches which make it a nice place to relax anytime.

Further inside the city they shall pop-up while walking around, but some of which deserve a special mention are:.


Kyoto Gyoen National Park, at the Kyoto Imperial Palace grounds

About a 15 minute walk (or a quick bus ride) away from our "machiya" house is the large park area of Kyoto Gyoen located in the grounds of the Kyoto Imperial Palace. It is extensive as it is wide, and it makes it a great option when visiting the Imperial Palace itself. Many people use it for their morning run or work-out routine, but it is certainly nice to have a picnic under one of its large trees facing the entrance to the Palace. The Palace itself is also accessible during the day and has free guided tours during the mornings in several languages.

Here is also the starting point of one of the city's biggest festivals, the "Jidai Matsuri" or the Era Festival, where more than 2,000 participants dress in a great range of traditional garments in a parade that ends at Heian-jingu Shrine.


Kyoto Botanical Gardens

Accessible both by bus or by subway, the Kyoto Botanical Gardens offer an extensive collection of plants, trees and flowers guaranteeing having something to see all year round. More than 500 cherry blossoms make it the target for those in the city during spring, and the maple trees decorate the area beautifully during autumn.

For a small fare, the 240.000 m2 grounds of the garden can be visited and enjoyed from 9am in the morning until 5pm in the afternoon.

 

Umekoji-koen Park

This is one of the local's favorite. There's a special area with games for kids to climb and run around plus a little maze like river, a large green plane for those looking to do some sports and a small restaurant. Just between this park is the Kyoto Aquarium and the Kyoto Railway Museum. Both popular with families with children, these attractions offer a connection with nature and the history of the city in a fun and interesting way.

In a nutshell, this park is an excellent option for those looking to have the kids entertained while enjoying a part of this city in family. It is just about a 15 minute walk from Kyoto Station, making it a good option for getting some energy out of the kids before riding on the train.

 

Maruyama-koen Park (Yasaka-jinja & Shijo Dori)

This park is located just behind Yasaka-jinja Shrine, in the neighborhood of Gion, an area that can not be missed while in Kyoto. The way to this park through bustling Shijo Dori street shall give a perfect introduction into the culture of Kyoto and its most prominent character. Everything from souvenir shops to "wagashi" sweets shops, cafes, clothing stores, the Kanji Museum and the recently renovated Kyoto Minami-za Theatre, this street in itself shall be a place of discovery.

At the end of Shijo Dori street is the entrance to Yasaka-jinja Shrine and its eye-catching orange gate offering a nice view from the street. From here walking through the shrine, its "yatai" food stalls and ringing bells is the Maruyama-koen Park, a place to relax from the contrasting liveliness of Shijo Dori street and to take in the natural aspects of the city. The lake here and its bridge offer a nice opportunity to take that wonderful family picture to frame back at home.


Some time for monkey business

One of the most popular attractions both with adults and kids alike is the Money Park in Arashiyama, west of Kyoto.

A walk up one of the mountains of this area (about 20 minutes) shall leave visitors surrounded by nature at a height of 160m with a scenic view of the entire city. Visitors may interacts with the local monkeys, feed them and the younger visitors may also play at a large playground onsite with slides and ropes..

In addition, on the eastern side of the city  it is possible to see and pet some of the animals in the engaging Kyoto City Zoo. Everything from snakes to elephants can be seen and special events are held during certain times of the year.

A special area is dedicated to pet some of the animals. Even though it can be done freely, a special reservation is required to meet and pet some of the fluffy rabbits and other smaller animals in the zoo.

 

History & culture through the 5 senses




Just a walking distance away from the City Zoo and right behind the Heian-jingu Shrine is the Kyoto Handicraft Center, a place that not only offers a view into the city's history and culture, but also provides some engaging crafting experiences, information, restaurants and both traditional and modern goods.

Some of the experiences popular with kids are woodblock printing, folding fan painting and Cloisonne, where participants use glass powder to decorate a copper base that the personnel shall later bake for you in an oven. The final product makes for a perfect souvenir to use as decoration or accessory.

Goods for purchase here include everything from "origami" paper to traditional wooden puzzle boxes, where pieces have to be turned and replaced to be able to open the box. Also, kimonos, local "kyomizu" pottery, cosmetics, t-shirts, Japanese dolls and everything to make visitors feel the history of the city and Japan still alive.

Close by and divided from Gion by the Kamo-gawa River, the area of Kawaramachi is the main business area of the city. It has everything you may need during your stay as for presents, food, entertainment and convenience of transportation. All the way through its mian streets of Shijo Dori, Kawaramachi Dori, Karasuma Dori and their sreets in between shall have something to discover and enjoy.

*Points to keep in mind
There are special rooms for changing diapers and breastfeeding at the many shopping malls in the area.
Pharmacies, and some convenience stores, shall provide with an alternative to quickly get any unforeseen need (baby food, snacks, diapers, baby powder, etc.)
Shopping malls usually have baby carts available for visitors.
Take cutlery with you if the kids are not experienced with chopsticks.


The Nishiki Market is one of the main areas visited when in the Kawaramachi area. This pedestrian narrow street of about 300m long has a wide range of shops including food shops, souvenir shops, restaurants, cafes, pharmacies and bars, guaranteeing it to be a spot worth looking into.

At one end of this market is one of Kyoto's most renown shopping malls, Kyoto Daimaru, and on the other end are 2 very popular arcades filled with more shops and entertainment, Teramachi and Shinkyogoku streets.

This entire area makes it the perfect option to always keep for a rainy day, since the Nishiki Market, both Teramachi and Shinkyogoku streets and Shijo Dori main street are all roofed streets, making it a pleasure both under the heat of summer or the unexpected rainy day.

It is with no room to doubt that these streets shall have something for everyone to enjoy.



Riding through Kyoto




Kyoto is a city that encourages to discover both its main tourist areas and its secret narrow streets by the convenience of a bicycle. The city is mostly flat, guaranteeing a nice tour around its many attractions quickly and with the freedom to stop anywhere along the way.

Special attention is required though when parking bicycles. Most temples offer free parking areas, but the most renown temples and shrines may not be able to do so due to their large amount of visitors. Always be aware of the bicycle parking areas (visibly indicated on the floor or street signs). The city of Kyoto has strengthen the laws regarding this topic, and if found by city authorities, such bicycles may be taken away and confiscated. In consequence, penalty fees may need to be covered at the bicycle renting shop.

A good, cheap and secure option is using bicycle parking lots near or in the area you are interested in visiting. Prices vary from place to place and duration of time. Thankfully, at Sakura House Kyoto Imadegawa, our onsite concierge shall be happy to help you decide which shall be your best option

A quick way to access this large river is just a short walk further past the Kyoto Imperial Palace. Due to its extension and by cutting right in the middle of the main business area (Kawaramachi area), this river makes it a gorgeous chance to take in the city while walking by its river bed. Cycling here is a highly recommended experience, and having convenience stores all around the city, getting a snack and sitting down anywhere along the way may be without a doubt one of the most cherished moments of the trip.

 

Stepping into the old Kyoto




TOEI Kyoto Studio Park, also known as "Eiga Mura", is an open studio that depicts the streets of the Edo Period. This studio has been used to film more than 200 movies and provides a unique experience for the little ones, and their parents as well, to experience at first sight what life in Japan was like during this time of history.

Shows, special events and themed restaurants and shops provide the excitement and entertainment that has made this park so popular with families.

 

Lost in the world of Manga




Quickly accessible through the Karasuma Subway Line near our "machiya" house is a place that all "manga" fans have dreamed of, the Kyoto Manga Museum. Here you can sit down and read any of the thousands of manga available either indoor or outside in the park area.

Additionally, there are workshops carried out throughout the day, galleries and a museum area showing the history and development of this worldwide known art.

Entrance fee vary from age and amount of people in the group visiting.

 

Universal Studios Japan (in Osaka)




For those looking for a bigger thrill, the Universal Studios Japan in he neighboring city of Osaka shall be a must. Promptly accessible from Kyoto Station with the "shinkansen" (bullet train) or by changing train lines starting from Imadegawa Subway Station near Sakura House Kyoto Imadegawa, this is a destination that shall require dedicating a whole day. The wide range of seasonal and permanent attractions, shows, shops and food stalls shall certainly make it an unforgettable experience.

 

Staying near home




Just around our private "machiya" house of Sakura House Kyoto Imadegawa, there are some alternatives to look into when deciding to discover what is around the historical neighborhood of Nishijin for adults and children to enjoy.

There are a wide range of restaurants in the surrounding area, but one that stands out is Kura Sushi. This "kaiten sushi" (conveyor belt sushi) restaurant with the special feature of having tablets on each table from where customers can order their desired sushi and other dishes as well (ramen, ice cream, drinks, etc). The particularity is that most of the dishes are just 100 yens (108 yens with tax) making it affordable, entertaining and a fresh typical Japanese meal.




In addition to this, Yokai Street (or Monster Street in Japanese) offers an interesting sight into Japanese folklore. This street, just a walk away from our private "machiya" house, intends to bring back these historical creatures and their importance to the present day by having each shop owner decorate the entrance of their shop with their own handmade "yokai" monster.

The stories involving "yokai" are many, and some can also be seen depicted in some well known ukiyo-e art pieces and anime movies. Everything from talking paper lanterns to infuriated broomsticks, these creatures are said to invade the northern area of "Heian-kyo" (the old name of Kyoto when it was the capital of Japan) since they got angry with human beings and the way they treated their everyday objects. Not all of the "yokai" are furious and vengeful though and it is an interesting aspect of the traditional culture of Japan and the Shinto belief that everything has a spirit.
 



Depicted here are just a few of the areas and aspects to keep in mind when traveling in Kyoto city with children. Of course, on top of the mentioned here, there are countless events to enjoy every season and alternatives for every type of interest. The advantage of Sakura House Kyoto Imadegawa is that although it being a private traditional townhouse, concierge service is provided at the separate front desk to help with anything from day planning, reservations, suggestions or just simply enjoy a nice conversation.
SAKURA HOUSE
Nishi-Shinjuku K-1 Bldg. 2F
7-2-6 Nishi-Shinjuku, Shinjuku-Ku Tokyo, Japan
Postal code: 160-0023
Google map
From Japan:
From outside Japan:
Mail:
Office hours:

8:50 am to 8:00 pm
We are open every day of the year.
Tokyo time:

05:04