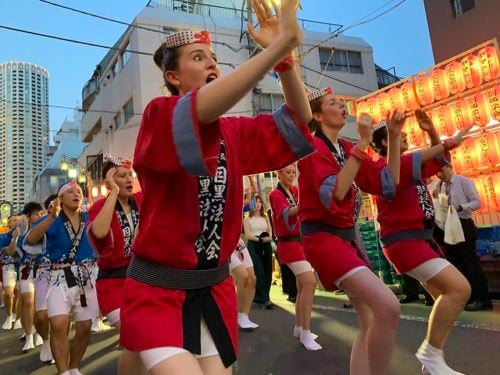 2019/10/23 (Wed)
Staff Blog
5 Things That Make SAKURA HOUSE Unique – Part 4: Special Events
We hold events in Tokyo on regular basis to bring together people from all across the world and introduce them to Japanese culture.

Thanks to our long history and the great relationship SAKURA HOUSE was able to build with the local community, the events we hold are special. At events like the local matsuri (festival) Mikoshi in Hatagaya, our residents can be more than just spectators. Together with the locals, our residents can carry a portable shrine called mikoshi and be part of a great tradition in Shinto.





At the Nakameguro AWAODORI (Dance) Festival in August our residents gave it all. AWAODORI is a traditional dance festival run by the entities of Meguro Ward. In recent years, with increasing participants from outside the area and of different nationalities, it has become an exciting and highly recognizable event of the summer.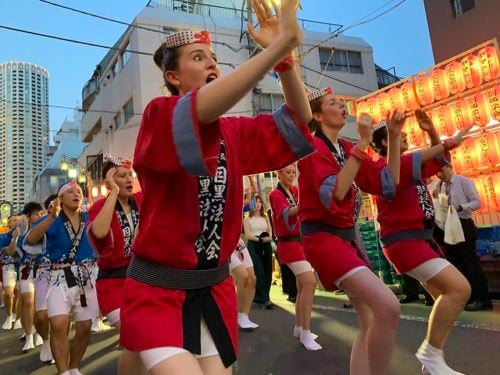 We also take our residents to DESIGN FESTA, the biggest art festival in Asia, where they can enjoy shopping directly from artists from all around the world, watch live paintings and performances etc.

The next DESIGN FESTA will be vol. 50 on the 16th and 17th of November, 2019.




This month we also visited a SUMO stable and watched the morning training in Nishiarai-Daishi.


Another gem this October was our participation in the Fuchu Folk Parade. On October 20th, we joined the festivities for Fuchu City's 65th Anniversary! The parade included 23 huge Japanese taiko drums & 22 massive dashi festival floats, all of which also appear during the annual – Kurayami Festival continued for more than 1000 years.




Dressed in traditional Japanese Yukata, we were not just able to watch the parade, we had the honor to dance as part of the parade and try the famous taiko drums ourselves.






Besides participating great local events, we also offer a variety of workshops. From Noh workshops from a professional Noh performer, calligraphy and tea ceremony workshops to chopstick and wind chime making workshops, we like to come up with new ideas and opportunities for our residents to explore Japanese culture.




What is up next?
SAKURA HOUSE
Nishi-Shinjuku K-1 Bldg. 2F
7-2-6 Nishi-Shinjuku, Shinjuku-Ku Tokyo, Japan
Postal code: 160-0023
Google map
From Japan:
From outside Japan:
Mail:
Office hours:

8:50 am to 8:00 pm
We are open every day of the year.
Tokyo time:

00:26