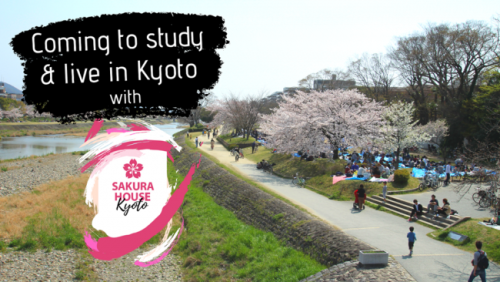 2019/10/04 (Fri)
Staff Blog
Coming to study & live in Kyoto

Kyoto is a city well known for its cultural and historical attractive. It is the city that holds over 1.000 years of history as Japan's old capital city, and its scenery and citizens have given birth to unique novels and pieces of literature. The great character that this city has created for itself is reflected in its academy magnificence. Universities here are the target of many overseas students looking to continue their studies in an ambiance that allows both to relax and have a good time. Just about 2 years ago, over 900 researchers from all around the globe have come to contribute to ongoing programs on several universities in the city of Kyoto.

It has been continuously mentioned that life in Kyoto is considerably easy, particularly due to its compact geographical structure. One is able to walk from the mountains in the east to the mountains on the west within a day and even have some spare time, although Kyoto city does not end just there. The central city area surrounding Kyoto Station is where most visitors stop, but for those staying for a longer term, a quick getaway to the surrounding mountains for a hike, a weekend with friends to the northern beaches, a memorable picnic by the river, or a night out clubbing, are all possible without having to spend excessively.


Finding a home




With so much to do, having a strategic location in the city shall crucially optimize time spending and avoid a headache, while also allowing you to see the worldwide known landmarks of this city and its multiple UNESCO World Heritage Sites.

Sakura House has recently added to its Kyoto residences KYOTO IMADEGAWA L (right on the left of KYOTO IMADEGAWA R). Both these residences are located in the center of Kyoto City, particularly in the Nishijin neighborhood of Kamigyo Ward. In such a location, straight access from Kyoto Station allows for a prompt arrival to the house after a long flight and a convenient connection with surrounding cities.

For the daily needs, one of the 5 different supermarkets shall have everything one may require. And for any unexpected purchases, the nearby convenience stores shall continue to allow residents to live without any worries.

 

Getting around

Different to other more largely urbanized cities (such as Tokyo or Osaka), Kyoto's main public transportation method within the city is the bus. Conveniently, there are 5 different bus lines stopping just behind KYOTO IMADEGAWA house and about 11 in total in the two main avenues nearby. Train access, about 15 minutes away, allows to reach all north, south, east and west areas in a matter of minutes.



For university students, those looking forward to continuing their studies in Kyoto's top universities are in great luck, as top 3 universities (Kyoto University, Doshisha University and Ritsumeikan University) are within prompt reach of KYOTO IMADEGAWA house. This is also convenient for relatives and friend coming to visit for a short or extended period of time.


Renting procedure


Our booking procedure remains simple and easy to understand. Share with us your arrival date to Kyoto and our team shall let you know if this or other options are available for your requested details. Once we have your confirmation, we shall require you to cover a partially refundable deposit of 20,000JPY (15,000JPY refundable to residents of KYOTO IMADEGAWA L upon moving out). After this, the monthly rent each month is the only requirement.

 

・No "key" money.

・No several months payment in advance.

・No guarantor required.

 

Above this, utilities are all included in the monthly rent, making it easy to keep control of your expenses and overall budget.

Houses are equipped with all the basic elements residents may need to perform their daily activities (cooking, eating, dishwashing, laundry, etc).


Leaving the house


It is possible to move-out anytime during our residents stay, making it easy to enjoy just a month, half a year or more in one of Japan's most historical cities. The only requirement is to let us know about your desire to move-out at least 1 month in advance to the decided move-out date.

 
Special traits


KYOTO IMADEGAWA L being a shared guest house, allows for solo travelers/students/workers to meet people from all around the world and make new friendships. Groups of friends can enjoy staying together in one same property and share their experience of life in Kyoto.

Check the link below for more information, reservations and inquiries. We are open to be contacted anytime! Our offices are open all 365 days of the year to assist you as required.

 

KYOTO IMADEGAWA L


SAKURA HOUSE
Nishi-Shinjuku K-1 Bldg. 2F
7-2-6 Nishi-Shinjuku, Shinjuku-Ku Tokyo, Japan
Postal code: 160-0023
Google map
From Japan:
From outside Japan:
Mail:
Office hours:

8:50 am to 8:00 pm
We are open every day of the year.
Tokyo time:

16:09(We are open now!)