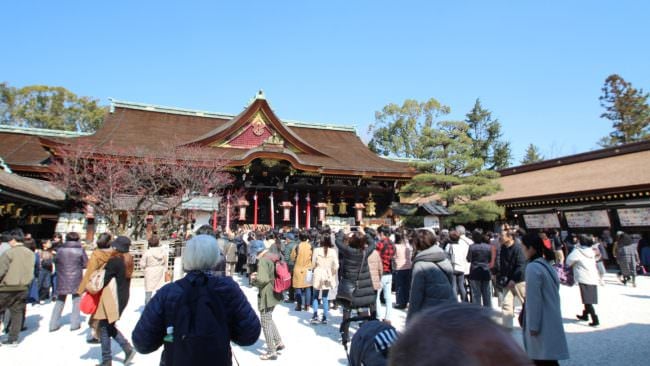 2019/10/04 (Fri)
Staff Blog
In & around Sakura House Kyoto Imadegawa
Whether you would be studying, working or traveling overseas for a long period of time, finding the right place to allow you to comfortable establish yourself is certainly a matter that requires time and patience. Ideally it would have to be a place close to school and/or work, with at least a supermarket close by, proximity to public transport to move around the city, tour and meet up with friends, and of course it shall help if it is a place that reflects the culture of the city. Luckily, if in search of such a place in Kyoto, then Sakura House Kyoto Imadegawa may deserve to be looked at.




Kyoto has been the capital of Japan for over 1.000 years, and it is due to this that many of the cultural and historical aspects of Japan find themselves still very much alive in this city. One aspect of this are the Machiya houses (traditional wooden townhouses) and Sakura House is happy to allow our residents to make such a place their home in Kyoto.




Located in the ever-lively neighborhood of Nishijin, Sakura House Kyoto Imadegawa offers all the mentioned above plus onsite staff to allow you to promptly get assistance and have concern attended to.

 

Supermarkets


There are 6 different supermarkets just about a 5 minute walk from this Machiya house, all of them containing a large variety of goods and daily special deals. The perfect combination to allow you to save money and get access to some fresh produce.




If in need of anything late at night, one of the several 24-hour convenience stores (one of them literally just around the corner) will have what you may need.

Plus, 100 yen stores, clothing stores (business and casual), antique shops, second hand shops, cafes and restaurants all just a walking distance away within a 10 minute walk

 

Public Transport




Just behind this house 5 different bus line make their way through different areas of the city. If we include the buses running on both avenues, just a 5 minute walk away each, the total bus lines rise to 11. There is no area of the city left inaccessible and since the train transportation in Kyoto is quite limited (specially compared to Tokyo), this is a considerable benefit.

Besides the buses, about a 15 minute walk away is the Karasuma Subway Line running from north to south and connecting straight to Kyoto Station, Shijo-Karasuma (one of the main intersections in the main business area of the city), the Tozai Subway Line (main line running from East to West), the Hankyu Line (which allows for cheap access to Osaka) and more.




Also within a 15 minute walk on the opposite direction to the subway is the Kitanohakubaicho railway station, providing a trip through the streets of Kyoto all the way to Arashiyama and the bamboo forest.

 

Sightseeing




Nishijin is a neighborhood historically known for being the area of kimono and obi belt weavers. The Nishijin Textile Center, 450m from the Machiya house, is a great example of how much the tradition of this part of the city remains alive. Many weaving companies continue in this area today and one of them is just by our house.

In addition to this, many Machiya houses can be seem while walking around, and while some have become shops or restaurants, many remain as private residences.




Another important property of this part of town is that it houses two of the main shrines in all of Japan, Kitanotenmangu and Seimei-jinja, highly visited by locals and travelers alike. A little further away are two great landmarks, the large grounds of the Kyoto Imperia Palace and the World Heritage Site of Nijo-jo Castle.

 

As if this wasn't enough, Sakura House Kyoto Imadegawa has kept all traditional aspects of a Machiya house still alive while providing modern facilities to allow for a pleasant stay. Enjoy the quietness of the neighborhood, relax while watching the rain fall on the central Japanese garden or quickly hop on a bus and make a temple tour on the weekend. Kyoto is without a doubt a beautiful city to be at, so allow us to make it your best experience in Japan.


SAKURA HOUSE
Nishi-Shinjuku K-1 Bldg. 2F
7-2-6 Nishi-Shinjuku, Shinjuku-Ku Tokyo, Japan
Postal code: 160-0023
Google map
From Japan:
From outside Japan:
Mail:
Office hours:

8:50 am to 8:00 pm
We are open every day of the year.
Tokyo time:

01:23