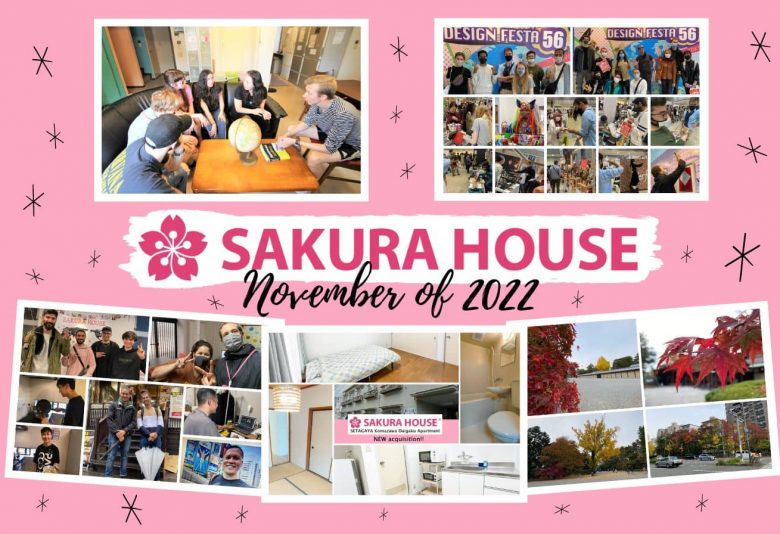 2022/12/06 (Tue)
Staff Blog
SAKURA HOUSE during November of 2022
Cold days began in Japan during November, and the beautiful scenery of autumn invited many travelers to pursue their trip plans after the opening of the Japanese borders last month.
As so, more and more travelers, Japanese language students, foreign university students, working professionals, interns and tourists arrived to Japan during this last month of November. To attend the needs of each individual traveler or group for their stay in Tokyo or Kyoto, our multilingual staff has continued to be working all days to provide a quick and personal service to each of them.
But as usual, we haven't been just at our office. Much else has taken place during this last month.
To stay up to date with the latest of Sakura House, take a look with us at what has been happening during November of 2022.

EXTRA, EXTRA!


For 30 years now, SAKURA HOUSE and our sister company SAKURA HOTEL, have continued on their mission to provide safe and confortable long term and short term accommodations to the foreign community in Japan. We were most happy to be able to chat with The Japan Times about this and more.
Feel free to take a look at our latest article with them here:
https://info.japantimes.co.jp/sakurahouse-sakurahotel/

The fun begins

As many of our residents have requested, this month we have slowly started to offer a few more our special Sakura Events. On this occasion, the large Design Festa Vol 56 took place at the Tokyo Big Sight and we gathered with some of our residents for our renown tour.
It has been a lot of fun to meet with all of them and spend a most memorable day surrounded by art, music, creativity, delicious food and so much more.
Next up is the Sakura Caravan Festival at the end of the year. Make sure to join us through the following link:
https://www.sakura-house.com/event/295

Fresh new beginning

This month we were delighted to announce the opening of our new apartment units in the Setagaya area of Tokyo:
KOMAZAWA HEIGHTS ANNEX (SETAGAYA KOMAZAWA DAIGAKU APARTMENT)
This newly renovated building has 10 1DK apartment units, great for individuals or couples, and 1 special 2 DK apartment with Japanese style room, perfect for families or groups.
Make sure to see the link above for more information.

The beauty of autumn

Autumn can no get overseen in Japan, and the red leaves remind of this as it attracts travelers from all around the country and the world to several cities.
We were also able to see some unique sights near our houses, at the parks and right on the streets too.
If you couldn't be in Japan for this autumn, make sure to check our social media for a few pictures and updates on other news as well!
Facebook  |  Instagram (Tokyo)  |  Instagram (Kyoto)  |  Twitter
Being part of Sakura House


As more foreign travelers arrived during November for their studies, work or just to enjoy the beauty of this time of year, all our staff has continued to find their perfect Share House, Guest House room or private Apartment.
Also, as we continue to clean and check on the condition of our houses, we always enjoy meeting with some of the kindest and most friendly people we could have ever imagined.
If you have not decided on your accommodation yet for your stay in Tokyo or Kyoto, make sure to contact us. We shall be glad to assist you as best we can!
SAKURA HOUSE
Nishi-Shinjuku K-1 Bldg. 2F
7-2-6 Nishi-Shinjuku, Shinjuku-Ku Tokyo, Japan
Postal code: 160-0023
Google map
From Japan:
From outside Japan:
Mail:
Office hours:

8:50 am to 8:00 pm
We are open every day of the year.
Tokyo time:

03:42