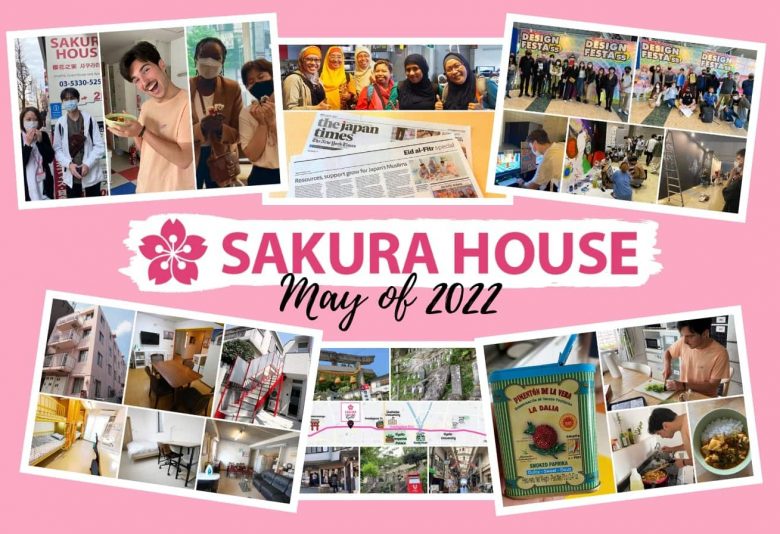 2022/05/31 (Tue)
Staff Blog
SAKURA HOUSE during May of 2022
May opened with the much awaited Golden Week season, a time when Japanese language students and foreign university students take a break from their studies and put their Japanese skills to practice while traveling around Japan. Likewise many of our residents took the time to relax a bit from their busy schedules and enjoy the beauty of Japan while we step toward the hotter days of summer. Warm days continued in both the areas of Tokyo and Kyoto, where our Share House, Guest House and Apartment units gave the chance for those looking to move within Japan to make their room inspection, either online or onsite with our multilingual staff.
As usual, many things took place this month, so lets take a quick look at what SAKURA HOUSE has been up to during the period of May in Tokyo and Kyoto, Japan.
Long term stays and short term travel stays

As the Golder Week allowed some space to relax, travel and review one's stay in the cities of Tokyo and Kyoto, we welcomed many new lovely residents and temporary guests while they enjoy their time in Japan. For those who have seen ongoing difficulties in finding a suitable place to stay, our Guest Houses have continued to provide an affordable and safe environment to live and make new friends. While our Share House private rooms and Apartment units continued to give the privacy and safety that continue to allow us welcome again many repeater residents, their friends and sometimes even their relatives. Thank you all for sharing your smiles!
Design Festa Vol.55

This month we had the amazing possibility to hold once again one of our most awaited events throughout the year, the tour around the large event of Design Festa. This year had a great number of artists, sculptures, manga enthusiasts, cosplay, musicians, performers and so much more than one day didn't seem enough. The 2nd day we had a larger participation and so much fund with our residents. We look forward to holding once again the numerous events that we always like to in order to bring all of you closer to the culture of Japan, its magic and its fun.
Extra, extra! SAKURA HOUSE is on the news again!

Yes, this month we had the pleasure of appearing once again on an issue of the Japan Times with our sister company of SAKURA HOTEL. On this occasion the highlight was dedicated to our special service for the Msulim community in Japan. It can certainly be troublesome to find a place that understands and offers the right type of accommodation to meet the needs every muslim foreigner in Japan may have. The language barrier and culture difference make it a large step to overcome, but not at SAKURA HOSUE and SAKURA HOTEL, with our multilingual staff and dedicated space. Check out our early post this year detailing all about a Muslim Friendly stay in Tokyo.
Mouthwatering visits

With the relaxing days of the Golden Week at the beginning of the month, we had the chance to meet with more of our residents during their spare time in the house. The 1 week holiday allowed some of our foreign residents to have more time to cook and explore the wonders of the Japanese cuisine, which more than once made us really hungry. One thing we noticed is with the creativity that some of our residents indulge in their culinary creations by blending Japanese ingredients with that of their home countries.
Step inside a "Sakura House"

While some foreigners chose to travel or enjoy their time off at home, others have decided to dedicated the Golden Week to find that new home that can allow them less commute time to work or school, or simply find an Apartment or bedroom that can better meet their needs and their budget. To assist on this, not only have we continued to offer our Onsite and Online Room Inspection, but we have also been posting more and more on social media about the special features of our houses, who it may be best for and also a little bit about their history. Keep up to date with our announcements and shared information on social media.
Facebook  |  Instagram (Tokyo)  |  Instagram (Kyoto)  |  Twitter
Houses surrounded by curiosities and history

The interior of our Share House, Guest House and Apartments are certainly a major part of each resident's decision, but just as important is the neighborhood. We encourage everyone to know what is around the location of their new home, so we also like to share pictures, history facts and curiosities that we find on the way to our accommodation options. Sometimes it is just a shop, others its and entire street's history and local importance, all contribute to the type of stay you may want to have, so be sure to let us know what you are looking for and our multilingual staff can help you as best we can.
Get in touch with us now and lets begin your stay arrangements for the following months in Tokyo or Kyoto, Japan.
SAKURA HOUSE
Nishi-Shinjuku K-1 Bldg. 2F
7-2-6 Nishi-Shinjuku, Shinjuku-Ku Tokyo, Japan
Postal code: 160-0023
Google map
From Japan:
From outside Japan:
Mail:
Office hours:

8:50 am to 8:00 pm
We are open every day of the year.
Tokyo time:

04:12