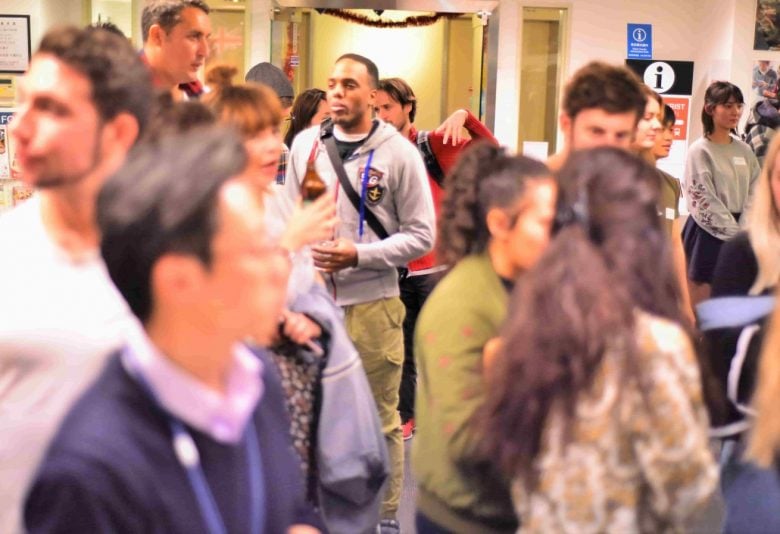 2022/01/05 (Wed)
Staff Blog
SAKURA HOUSE 30 YEARS ANNIVERSARY: Throwback JANUARY "Australia Day" Party
SAKURA HOUSE is celebrating our 30th anniversary this year, 2022.
Last year in 2021, We welcomed business people, exchange students, diplomats, and embassy officials who came to Japan by the business track or residence track, as well as domestic residents who moved to Tokyo and Kyoto as SAKURA HOUSE residents.

Starting with this month, January, we would like to look back on the events and things at SAKURA HOUSE during that month or season.
In Australia and New Zealand, where the school year is divided into four semesters, January is the month when the new school year begins. Therefore, January is usually the month when many people from Oceania come to Japan to attend language schools, universities, companies, or to travel around Japan.

AUSTRALIA DAY PARTY
at SAKURA HOUSE Lounge in Shinjuku, Tokyo
A few years ago, we held "Australia Day" parties in our lounge to celebrate Australia's National Day with residents enjoying Australian food and drinks.

Over the years, we organized multiple Australia Day parties and many residents from Australia, Spain, France, China, Vietnam, Germany, the United States, Lithuania, and Madagascar came to enjoy the celebration.

At the party, we even had a resident who is a singer perform the Australian national anthem in front of everyone. Some of the residents even sang along, loudly.

Australia Day is a national holiday celebrating the founding of Australia on January 26 every year.
The party was featured a variety of Australian cuisine from SAKURA CAFE, serves food and drinks from around the world. The drinks were mainly Australian beers such as FOSTER'S and VB.

The lounge was decorated with national flags and Australian pop and rock music, creating an all-Australian atmosphere. Along with the food and drinks, our residents and we enjoyed talking about Australia (pronunciation, greetings, places they visited, etc.) and exchanged contact info with each other.

It seems that many of the residents from Australia prefer SAKURA HOUSE's share houses in Shibuya and Harajuku. SAKURA HOUSE Shibuya Sendagaya is particularly popular as it has easy access to Shibuya and is within walking distance of Harajuku.

Due to the new variant of covid, we are not holding most events at the moment, but we sincerely hope that we will be able to hold as many events as before this year!
We are still not sure when the border restrictions will be lifted, but SAKURA HOUSE is always ready to accommodate students, business people, interns, diplomats, and travelers.
We will continue to use our experience to ensure that our residents are as comfortable, safe, and secure as ever.
SAKURA HOUSE
Nishi-Shinjuku K-1 Bldg. 2F
7-2-6 Nishi-Shinjuku, Shinjuku-Ku Tokyo, Japan
Postal code: 160-0023
Google map
From Japan:
From outside Japan:
Mail:
Office hours:

8:50 am to 8:00 pm
We are open every day of the year.
Tokyo time:

11:58(We are open now!)