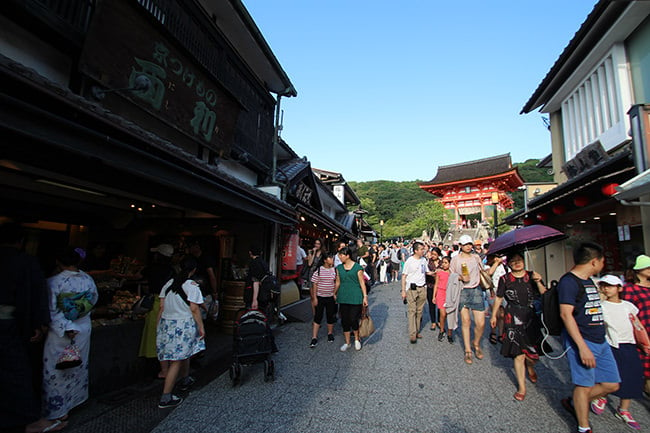 2019/10/04 (Fri)
Staff Blog
New house in Kyoto・KYOTO IMADEGAWA L
SAKURA HOUSE has just expanded its options for those coming to study/work/travel in Kyoto. KYOTO IMADEGAWA L is our newly renovated property offering a comfortable, easy and affordable stay for anyone to enjoy and start their life in one of Japan's most historical cities.




Located right next to KYOTO IMADEGAWA R, this property offers the same benefits of staying in the historical neighborhood of Nishijin.
Great public transport options:


4 bus lines stopping behind the house + 7 bus lines more on both avenues just a walk away.
Imadegawa Station, with straight access to Kyoto Station by subway.
Kitanohakubaicho Station, with direct access to Arashiyama/Sagano area by railway

5 different supermarkets in just about 5 minute walk
24 hs convenience stores close by (including a 100 yen convenience store)
Proximity to historical landmarks:


Seimei-jinja Shrine
Njio-jo Castle
Kyoto Imperial Palace
Kitanotenmangu Shrine
Daitoku-ji Temple
Kinkaku-ji Temple (The Golden Temple)
The 1st floor




The first floor shall be the main common area. It is equipped with everything residents may need to feel at home and perform their daily activities. This area includes the kitchen, living/dining room, laundry area, shower and toilet for all residents to share. An air conditioner is also located in the living/dining area, allowing for a comfortable relax time. The wide space of the 1st floor allows for it to be used without complications. All electronic devises have English indications as to how to use them. Besides this, the kitchen also has cutlery, plates, glasses, pots, pans and all the basic cookware you may need to start right away.




This place of the house is excellent to chat with roommates/friends while cooking, dining or just relaxing. and it also offers a great opportunity to make new friends, discover more about other cultures and overall make your stay in Kyoto a memorable experience.

Finally, WiFi is available here as in all rooms throughout the entire property.

The 2nd floor




This guest house is equipped with 2 shared bedrooms (201 & 202) on the 2nd floor for up to 3 residents each. Both rooms are equipped with air conditioning, folding Japanese style futon beds (sheets included) and basic furniture allowing for items to be stored in an organized manner. In the hallway, a convenient toilet and washbasin is installed for all residents to use. Lets see what each room offers individually.

Room 201




This 16.8m2 room is perfect for groups coming to enjoy their stay in Kyoto without having to spend too much of their budget. It is an 8 tatami room, offering good amount of space and organization with each bed having its own hanger and storage shelves. Beds are folding Japanese style futon beds, allowing for even more space during the day once they are easily folded. The room is also  equipped with air conditioning with cooling, heating and dehumidifying functions.

Room 202




This 19.1m2 room is specifically recommended for students/workers, since each of the 3 beds has its own desk with desk lamp and power supply. Here also, the wide space of the room allows for easy movement and interaction with other roommates. 101⁄2 tatamis give the required space for 3 folding Japanese style futon beds. During the day, once these beds are folded, the room becomes more spacious allowing for fresh air to run freely from the large window.

Air conditioning with cooling, heating and dehumidifying functions is provided for year round comfort.

Making your reservation

Coming to study or work in Kyoto can be a stressful endeavor, specially at the beginning stage. Looking for a place to rent, taking care of all the required costs and documentations, making sure the property is located conveniently, all this can be a little overwhelming. In order to allow our residents peace of mind, easiness and transparency, we keep our move-in procedures simple, just as we have been doing for over 25 years.

No key money or guarantor required. Just a simple ¥20,000 deposit (up to ¥15,000 refundable upon moving out) is required to make your reservation. All other costs are covered in the monthly rent.

The house location is right at the center of the city, making it easy to access any corner of Kyoto while also allowing quick access to other areas of interest in the Kansai area.





Groups of students/workers may also find this property quite convenient and affordable, while keeping the whole rental process simple and clear.




Above our standard monthly stay, we also offer the possibility for shorter term stays (daily, weekly) for solo travelers, groups, families and anyone looking to enjoy the peaceful ambiance of an original Japanese style townhouse.

Staff available onsite for quick assistance and guidance with any complication that may arise. Multilingual staff also conveniently available to attend any need that may arise.

Make your enquiry any time and enjoy your stay in Kyoto right away.
SAKURA HOUSE
Nishi-Shinjuku K-1 Bldg. 2F
7-2-6 Nishi-Shinjuku, Shinjuku-Ku Tokyo, Japan
Postal code: 160-0023
Google map
From Japan:
From outside Japan:
Mail:
Office hours:

8:50 am to 8:00 pm
We are open every day of the year.
Tokyo time:

12:05(We are open now!)