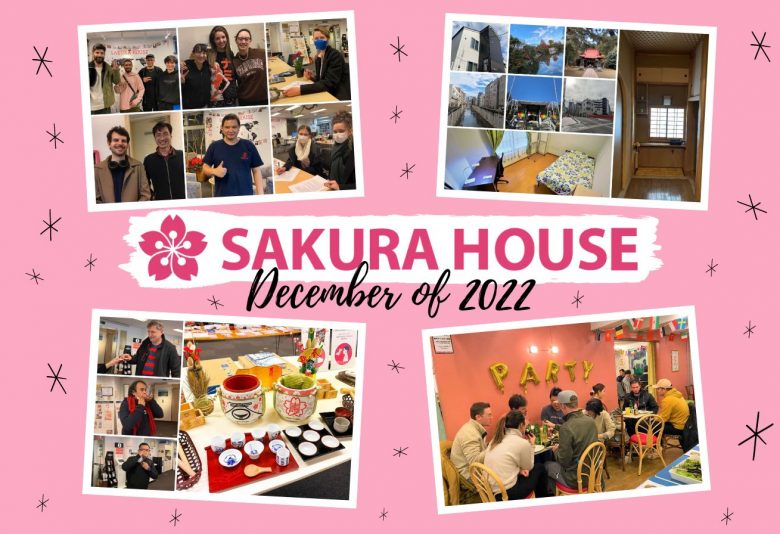 2023/01/06 (Fri)
Staff Blog
SAKURA HOUSE during December of 2022
The new year arrives and we look back at what was a most rewarding year full of new experiences and many memories. We continued to welcome many foreign students, work related professionals, interns and tourists looking to pursue their goals and discoveries in Japan.
Lets look at what have been the most outstanding activities that took place this December of 2022, just before welcoming the new year.

New houses, new discoveries

We have not stopped to continue visiting our Apartment, Share House and Guest House units all over Tokyo and Kyoto to check and continue upgrading our accommodation options for all foreign travelers.
With the new opening of SETAGAYA KOMAZAWA DAIGAKU APARTMENT, we continued to discover more of what the different areas of Tokyo has to offer.
But this wasn't the only highlight, another of our special recommendations during December were:
🏘️ NAKANO SHIMBASHI (TOKYO SHARE HOUSE)
🏘️ MUSASHINO MUSASHI-SEKI (TOKYO SHARE HOUSE)
🏘️ SUGINAMI OGIKUBO (TOKYO SHARE HOUSE NEAR SHINJUKU)

Welcoming all

The cold weather certainly continued during the end of the year, but this was no stop for our residents and their determination. Providing our personalized service all days (including weekends and year end holidays), many could come for their check-in with us even on Christmas day and New Years Eve.
We were delighted to be able to meet and greet them all for what shall be a great start to their new life in 2023!

Happy New Year!

As usual, we prepared our office to welcome the new year 2023 in a most traditional way in at our Sakura Lounge with all of our visitors.
Our barrels of "o-toso" were filled and closed, ready to receive the opening hammer hit that shall allow us to make a toast for a most healthy and happy new year ahead with all our new residents.

Party time!

With great expectation, both our staff and our residents were most happy to begin once again the entertaining Sakura Events.
On this occasion we gathered at our sister company SAKURA HOTEL & HOSTEL NIPPORI for what was the Sakura Caravan Party. We enjoyed an amazing evening with great food, refreshing drinks andthe company of both our residents and the guests of Sakura Hotel.
The next one is coming on January 2023, make sure not to miss it!
SAKURA HOUSE
Nishi-Shinjuku K-1 Bldg. 2F
7-2-6 Nishi-Shinjuku, Shinjuku-Ku Tokyo, Japan
Postal code: 160-0023
Google map
From Japan:
From outside Japan:
Mail:
Office hours:

8:50 am to 8:00 pm
We are open every day of the year.
Tokyo time:

06:07